Adverse Reactions to Food: The Report of a British Nutrition Foundation Task Force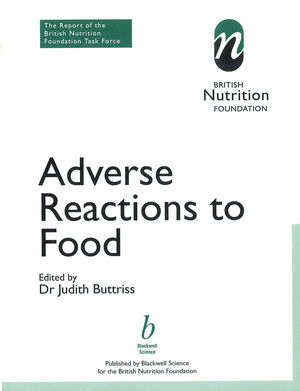 Adverse Reactions to Food: The Report of a British Nutrition Foundation Task Force
ISBN: 978-0-632-05547-0 November 2001 Wiley-Blackwell 256 Pages
Description
Continuing the exciting series of BNF Task Force Reports, Adverse Reactions to Foods covers in depth food allergy, food intolerance, nutrition and the immune system and autoimmune disease. Chaired by Professor Dame Barbara Clayton, task force members have provided cutting edge information, which is a must-have reference for a whole range of professionals including dietitians, nutritionists, health visitors, family practitioners, nursing practitioners and many other health professionals.
Foreword.
Terms of Reference.
Task Force Membership.
1 Introduction and Definitions.
2 The Immune System.
3 Nutrition and the Immune System.
4 Epidemiology of Food Intolerance and Food Allergy.
5 Pre- and Postnatal Sensitisation to Foods.
6 Common Food Allergies.
7 Other Manifestations of Food Intolerances.
8 Enzyme Defects and Food Intolerance.
9 Coeliac Disease and other Gluten Sensitive Disorders.
10 Clinically Validated Diagnostic Tests and Non-validated Procedures of Unproven Value.
11 Diagnosis and Management of Food Intolerance by Diet.
12 Food Allergens and the Food Industry.
13 Immunomodulation of Food Allergies.
14 Conclusions of the Task Force.
15 Recommendations of the Task Force.
16 Questions on Food Allergy and Intolerance.
Appendix 1 Food Additives.
Glossary.
Abbreviations.
References.
Index.
"...some of the most eminent practitioners in the field have contributed to this book, it is no surprise that it is an excellent and very exhaustive resume of the topic. Although a different author wrote each chapter, the skilful editing ensures that all the chapters are written in the same style." (Isabel Skypala,
Journal of Human Nutrition & Dietetics
, August 2002)
"Questions on food allergy and intolerance, plus the answers (this chapter alone makes the book valuable - the complex questions are answered in a language that all can understand and interpret).
A must-read for nutritionists, dieticians, medics and food scientists/technologists." (Food & Beverage Reporter 2004)
* of wide interest to the health professions
* easy to read, must-have reference tool
* part of the stimulating BNF Task Force Report series