Advertising by Design: Creating Visual Communications with Graphic Impact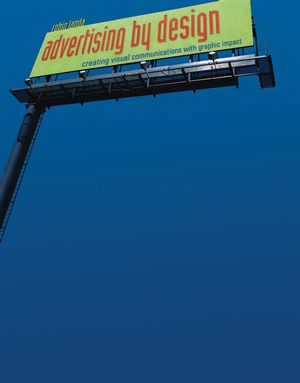 Advertising by Design: Creating Visual Communications with Graphic Impact
ISBN: 978-0-471-42897-8
Jun 2004
256 pages
Product not available for purchase
Description
A complete guide to the process behind effective advertising design
Advertising by Design is a brilliantly accessible approach to the creative process behind effective, memorable advertising. This full-color text provides a highly illustrative, behind-the-scenes look at developing successful ads for a variety of media-including print, television, online, and guerrilla advertisements-empowering students to find creative solutions.
Advertising by Design encourages students to push past the obvious design choices to find the big idea! Dozens of celebrated ad campaigns demonstrate such concepts as the visual and verbal relationship, visual metaphors, creating unified campaigns, and many others. Fully supplemented with interviews from esteemed creative directors and chapters on developing imaginative ideas, copywriting, and advertising history, Advertising by Design is a perfect text for beginning and intermediate advertising design courses and core courses in all visual communications programs that incorporate advertising concepts and design strategies.
Foreword by Paul Renner.
Acknowledgments.
Introduction.
Part One: Informing, Persuading, and Provoking.
How Advertising Works.
Chapter 1: A Brief History of Advertising.
In the Very Beginning.
The Art of Advertising: Theories and Media.
The Creative Revolution.
Showcase: George Lois.
Showcase: Lou Dorfsman.
Showcase: Allan Beaver.
Showcase: Smokey Bear Public Service Campaign.
Showcase: "I LOVE NEW YORK" Campaign.
Chapter 2: The Biz: Structure, Strategy, and the Creative Brief.
What Is Advertising?
The Ad Agency.
Who Is the Audience?
Types of Ads.
The Creative Brief.
Sample Creative Brief from The Richards Group/Dallas.
Case History: Mustoes/London.
Insights and Intuition.
Ethics.
Part Two: What's The Big Idea?
Formulating an Advertising Concept.
Chapter 3: Thinking Critically and Creatively, and Getting Started.
Thinking Critically and Creatively.
Getting Started.
The Creative Team.
Brainstorming Technique.
What Makes an Ad.
Ingredients That Go into an Ad.
Design, Execution, and Media.
Critique Guide.
Critique Method.
Chapter 4: The Big Idea.
Points of Departure: Where Do Big Ideas Come From?
Visual Analogy.
Visual Metaphor.
Life Experience.
Eccentric Points of View.
The Problem Is the Solution.
A Darned Good Reason.
Comparison.
Exaggeration.
Authenticity and Being First in Its Class.
Motivation and Inspiration.
Just the Facts, Ma'am.
Interview: Bob Isherwood.
Chapter 5: Ad Categories.
Demonstrations.
Endorsements and Testimonials.
Declarations.
Slice of Life.
Meta-Advertising.
Popular Culture.
Fantasy.
Misdirection.
Image or Lifestyle.
Adventures and Escapes.
Benefits and Differentiation.
Recognition.
Chapter 6: Expression: Make 'Em Laugh, Make 'Em Cry.
Humor.
Satire, Parody, and Irony.
Passion, Lust, and Desire.
Triumph.
Respect and Value.
Pathos and Compassion.
Fear.
Shock and Changing Our Expectations.
Association.
Interview: John Butler.
Part Three: The Visual and Verbal Expression of an Idea.
Design and Copy.
Chapter 7: Graphic Impact: Design Principles.
The Design Process.
Composition: Critical Principles of Design.
Format.
Balance.
Positive/Negative Shapes and Space.
Visual Hierarchy.
Unity and Variety.
Rhythm.
Types of Compositions.
Illusion.
Chapter 8: The Design of Advertising and Expressive Typography.
The Design of Advertising.
Audience and Appropriateness.
It Shouldn't Look Like Advertising.
Size of Logo/No Logo.
Layout.
Copy as Sales Pitch.
Text and Subtext.
Size and Media.
Design Pointers to Follow (and Sometimes Ignore).
The Seamless Concert: Type and Image.
Interview: Erik Kessels.
Chapter 9: Flexibility: The Ad Campaign and Creativity.
Designing Print Campaigns.
Creativity.
Chapter 10: Copy.
What Comes First—the Line or the Visual?
Visual and Words: How Should They Work Together?
Visual or Words: Which Should Dominate?
How Many Words Are Too Many?
Conventions.
Writing Creatively.
Say It in the Line—Don't Rely on the Body Copy.
It's Established in the Claim.
The "Do I Sound Like a Sales Pitch?" Test.
The "Do I Sound Like Something No One Would Ever Say to Anyone Else?" Test.
Intention.
Whose Voice Is It?
Process.
Style.
Feed Your Writing.
Interview: Valerie Graves.
Interview: Guido Heffels.
Chapter 11: Beyond Print Media: Television Commercials, Interactive Media, and Guerilla Advertising.
Television.
Interactive Media.
Guerilla Advertising: Unconventional Methods and Media.
Bibliography.
Index.
Developed specifically to meet the needs of Advertising Design I and II,  core courses in all graphic design programs

Includes numerouse exercises and studio projects woven throughout the text

Full color throughout with hundreds of recognizable images that enforce the  key concepts