Advertising by Design: Generating and Designing Creative Ideas Across Media, 3rd Edition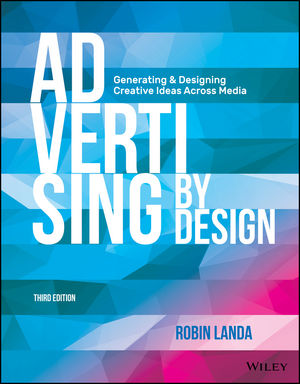 Advertising by Design: Generating and Designing Creative Ideas Across Media, 3rd Edition
ISBN: 978-1-118-97105-5
Nov 2016
264 pages
Description
A real-world introduction to advertising design in today's industry
Advertising by Design is the most comprehensive, up-to-date guide to concept generation and design for advertising. Step-by-step instructions and expert discussion guide you through the fundamentals, as you develop the deeper understanding that connects the dots and sparks your creativity. Interviews with leading creative directors provide a glimpse into the real-world idea generation process, and case studies of successful ads allow you to dissect both the process and result to discover the keys to effective advertising. This new third edition has been thoroughly updated to reflect the industry's shift from print and TV ads to fully integrated transmedia campaigns, giving you invaluable insight into a broad range of media channels. New concepts and strategies for social media, digital media, pull marketing, creative content, and more are discussed in depth to help you tell an engaging story using every tool at your disposal. Ancillaries include PowerPoint slides and quizzes bring this book right into the classroom for a complete introduction to advertising design.
Students seeking a career in advertising need the ability to generate idea-driven campaigns and adapt them for use in print, mobile, television, and social media formats. This book provides the well-rounded instruction required to succeed in the digital age.
Master the fundamentals of advertising design for a range of media channels
Integrate print, web, social media, and more to convey an engaging story
Jumpstart your creativity with lessons from top creative directors
Build your knowledge base around the reality of modern advertising
Effective advertisers blend ideas, information, and entertainment in a way that reaches a range of audiences through a range of media types; this requires deep mastery of idea generation, copywriting, and graphic design. Advertising by Design helps you develop the skills and knowledge today's advertising industry demands.

"With its colorful, current examples, insightful interviews and relevant and thorough content, this book is the winning text for me." (Journal of Advertising Education, Sage Journals - Spring 2017)
Preface
Acknowledgments
01 Advertising Is . . .
The Purpose of Advertising
Broad Advertising Categories
Advertising Takes Many Forms
Media Channels: Paid, Owned, and Earned
Who Creates Advertising
The Ad Agency
Social Responsibility
Career Competencies and Expectations
What You Need to Know to Begin
Sample Creative Brief
Interview with Justin Moore, creative director, Venables Bell and Partners
02 Composition by Design
Parts of an Ad
Image/Copy Relationship Constructions
Basic Design Principles
Directing the Viewer's Gaze through a Composition
Point of View
Illusion of Spatial Depth
The Illusion of Movement
Campaigns by Design: Triplets versus Cousins
Integrated Media Campaigns
Start Designing
03 Type and Image by Design
Type by Design
Clarity of Visual Communication
Selecting a Typeface for Idea, Content, and Audience
Image by Design
Imagery
Basics of Visualizing Form
Integrating Type and Image
Interview with Milton Melendez, creative director, Red Urban
04 Building a Brand Narrative in the Digital Age
Strategic Thinking Underpinning the Brand Story
Brand Story Considerations
Strategic Approaches
Brand Storytelling
Interview with Kevin Roberts, chairman, Saatchi & Saatchi
05 The Ad Idea
Six Essential Questions
Seeking an Insight
Tools
Idea-Generation Process
Thinking Creatively: More Points of Departure for IdeationInterview with Dave Snyder, executive creative director, Firstborn
06 Storybuilding and Content Creation in the Digital Age
Storybuilding in the Digital Age
The Core Brand Narrative: The Story Ecosystem
Telling a Shareworthy Story
Story Basics
Story Starters
Essay by Alan Robbins, professor, Michael Graves College
Interview with Scott Goodson, founder, StrawberryFrog
Story Starters: Exercises and Projects
07 Deconstructing Model Formats
The Appeal of Transformation
Conveying the Advertising Message
Basic Formats
Interview with Sophia Lindholm, senior art director, Forsman & Bodenfors
08 Copywriting
Which Comes First: The Image or the Copy?
Words and Image: How Should They Work Together?
Taglines
The Writing Process
Start Writing
09 Thinking Creatively
Tools That Stimulate Creative Thinking
Creativity through Making
Interview with Rosie Arnold, executive creative director, BBH
10 Animation, Motion by Design & Commercials: TV, Web & Film
Motion Serves the Idea and Storytelling
Storyboard
Ten Guiding Principles for Storytelling in Animation or Motion
How a Commercial Looks: Design Essentials
Commercials and Social & Web Films
Strategy/Idea/Benefit/Channel
Interview with Mark Jackson, chief technology catalyst, McCann Worldgroup
11 Digital by Design: Mobile, Social & Websites
Experience Focused/Media Agnostic
Website Basics
Branding
Mobile by Design
Desktop Website Design
Website Development
Social by Design
Essay by Manik Rathee, user-experience designer, Google
Interview with Gerard Crichlow, director of social and cultural innovation, AMV BBDO
Glossary
Bibliography
Index