Advertising on the Internet, 2nd Edition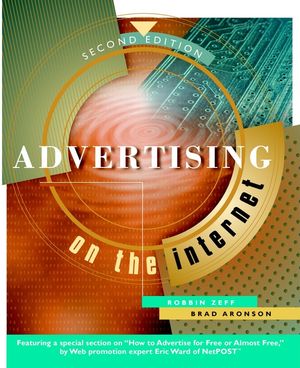 Advertising on the Internet, 2nd Edition
ISBN: 978-0-471-34404-9
Feb 2009
448 pages
Product not available for purchase
Description
How today's most successful online advertisers and marketers maximize their online presence, and how you can too

This updated and expanded Second Edition of the bestselling guide to online advertising is must reading for everyone who wants to take advantage of the most important new advertising medium since television. A complete primer on online advertising for businesses of all sizes, it gets you up to speed on the crucial issues, hot new trends, and most effective new technologies in Internet advertising. Loaded with examples of some of today's most successful online advertising and marketing initiatives, it gives you the inside track on:
* Successful online ad models
* Market research online
* Direct marketing, including opt-in e-mail, promotions, and sweepstakes
* Targeting and personalization
* Internet advertising management tools
* Traffic measurement and gauging the effectiveness of your ads
* Buying and selling ads on your Web site
* Advertising locally
* Advertising to an international market
* Legal aspects of Internet advertising
* How to advertise for free, or almost free (contributed by Eric Ward, the father of grassroots advertising strategies)

On the companion Web site at www.wiley.com/compbooks/zeff you'll find:
* Links to additional training and tool resources
The Internet Advertising Landscape.

Online Ad Models.

Internet Direct Marketing.

The Art and Science of Web Measurement.

Ad Management.

Targeting-The Online Advertising Advantage.

Pricing Online Ads.

Market Research-Information Is Your Competitive Advantage.

Buying Online Ads.

Selling Online Advertising.

Going Local.

International Online Advertising.

Legal Issues Every Internet Advertiser Should Know

The Internet Advertising Convergence.

How to Advertise for Free or Almost Free (by Eric Ward).

Appendix.

Glossary.

About the Authors.

Index.