Advice for Dancers: Emotional Counsel and Practical Strategies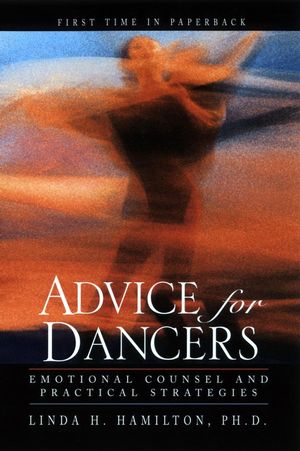 Advice for Dancers: Emotional Counsel and Practical Strategies
ISBN: 978-0-787-96406-1 December 2002 Jossey-Bass 240 Pages
Download Product Flyer
Download Product Flyer
Download Product Flyer is to download PDF in new tab. This is a dummy description. Download Product Flyer is to download PDF in new tab. This is a dummy description. Download Product Flyer is to download PDF in new tab. This is a dummy description. Download Product Flyer is to download PDF in new tab. This is a dummy description.
Description
Dancers experience pain, joy, frustration, rapture, failure, applause, and are above the worldly concerns of food, money, and financial security. They live only to dance.
Or do they?
The reality is dancers of all ages, types, and skill levels often experience incredible physical and psychological stress and have traditionally bore their pain in stoic silence.
In this much needed new book, Dance Magazine's Linda Hamilton offers dancers the same type of advice and understanding they have come to trust from her popular monthly column. Psychologist Hamilton--a former dancer with New York City Ballet under the legendary George Balanchine--offers a complete resource for coping with the day to day pressures of being a dancer. Page after page is filled with the insight that can only come from a person who has been intimately involved in the world of dance.
Hamilton outlines strategies for dancers for dealing with a variety of common physical and psychological issues and shows how to be true to your passion and bring back the joy in dancing. The book is filled with answers to dancer's most often asked questions and offers practical methods for dealing with such difficult problems as eating disorders, substance abuse, ruthless competition, and performance anxiety. Advice for Dancers will teach you how to:
Achieve you physical potential and select the dance technique that's right for you
Find out which teaching practices you can trust and why
Learn how to reach your optimal weight without compromising your energy, health, and career
Develop healthy relationships both inside and outside the dance studio
Use a variety of resources to get work, roles, and promotions
Perform technical feats in front of an audience even when you are frightened
Advice for Dancers is a result of Hamiltion's extensive research and years clinical work with dancers and includes information for a survey of more that 1,000 dancers from across the country.
Table of contents
Introduction 1
1 Accepting the Dancer You Are 9
2 Teaching Practices: The Good, the Bad, the Ugly 35
3 Focusing on Body Shape and Appearance 55
4 Your Relationships: Friends or Foes? 77
5 So You Want to Be a Professional 99
6 Performing at Your Peak 123
7 The Mind-Body Connection: Injuries and Your Health 147
8 Is There Life After Dance? 173
Resource Directory 193
Bibliography 213
Further Reading 217
About the Author 219
Index 221
Reviews
"an inspiring book with an impressive repertory of solutions to the psychological and physical problems that challenge every dancer." (Dance Magazine, January 1999)

Excerpt in Dance Magazine, October, 1997.

Listed as a resource in Dance Magazine, January 1999.

Dr. Linda Hamilton, an associate professor at Fordham University, lecturer, psychologist, former dancer with the New York City Ballet, and author of Advice for Dancers, also writes a monthly article, Advice for Dancers, in Dance Magazine.