Advisor for Life: Become the Indispensable Financial Advisor to Affluent Families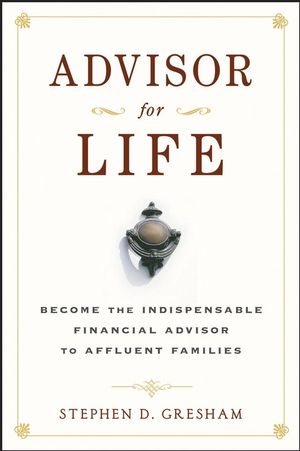 Advisor for Life: Become the Indispensable Financial Advisor to Affluent Families
ISBN: 978-1-118-04495-7
Jan 2011
384 pages
Description
"The Age Wave of retiring baby boomers is creating a seismic bonanza for financial advisors--if they can provide the kinds of creative and flexible strategies their clients will be wanting and needing. Steve Gresham provides the solid, imaginative, yet practical guidance needed to build winning strategies to meet the needs of a new generation of investors. I have long respected his work and heartily recommend this book."
--Ken Dychtwald, PhD, founder and CEO, Age Wave, and author of Age Wave, Age Power,The Power Years, and Workforce Crisis

"Steve Gresham showed us in The Managed Account Handbook that the basics to asuccessful advisor do not differ from one country to another. In this book, he is expanding his horizon with his extensive experiences to further help you to develop the skills for building a devoted client base. This is the must-read book for all who want to succeed in the financial advisory industry."
--Toshiya ShimizuPresident and CEO, Nikko Cordial Advisors Ltd.

"For thirty years, advisors have been using wealth accumulation as their main sales weapon. With the boomers entering retirement, all that's out the window. Now the imperatives are income distribution, planning--making sure the investor does not run out of money. In Steve's newest book, he does an excellent job of walking advisors through this change and showing them how to alter their practices to not only survive but thrive. This is a must-read for any advisor who still wants to be in the business in ten years."
--Len Reinhartfounder and President, Lockwood Advisors?

"For over thirty years, I have sought advice from industry experts who can help me grow and optimize my practice. Steve Gresham's advice is always of interest to me--he is always right there on the cutting edge."
--John Rafal, President, Essex Financial ServicesRegistered Rep.'s Top 50 Financial Advisor for 2006 and Barron's Top 100 Financial Advisor

"A good coach can help even the best players reach their potential. As a financial advisor, you coach successful families to tackle life's challenges and achieve their goals. Steve Gresham can help--he has the tactics to help you build a winning team."
--Mike KrzyzewskiHead Coach, Duke University Basketball and the 2006 U.S. National Team
Acknowledgments.
About the Author.
About the Contributors.
SECTION ONE. THE STATE OF THE ADVICE INDUSTRY AND YOUR OPPORTUNITIES.
Introduction. Buicks and Big Macs: What the Financial Advice Industry Can Learn from General Motors, McDonald's and Federal Express.
Chapter 1. The Value of Advice: Which Advice Is Most Valued by Affluent Households—And What Should It Cost?
SECTION TWO. INVESTMENT COUNSEL ADVICE FOR LIFE.
Chapter 2. How to Develop a Compelling Investment Philosophy.
Chapter 3. Creating a Defined, Effective Investment Process.
Chapter 4. Setting Goals: What Really Matters?
Chapter 5. Defining Risk: Or, Is Risk-Management a Contradiction in Terms?
Chapter 6. Diversification: Helping Clients Reap the Benefits of Institutional Investing.
Chapter 7. Alternative Investments.
SECTION THREE. WEALTH MANAGEMENT ADVICE FOR LIFE.
Chapter 8. Managing Dreams and Fears—A Total View of Wealth.
Chapter 9. You Can Help Clients Grow.
Chapter 10. All in the Family and Keeping It That Way.
Chapter 11. Money for Life.
SECTION FOUR. BUILDING YOUR "ADVISOR FOR LIFE" PRACTICE.
Chapter 12. What Is Your Value?
Chapter 13. How to Quantify Your Unique Value.
Chapter 14. The Advisor-Client Tango.
Chapter 15. Driving Referrals.
Chapter 16. Selling Yourself.
Chapter 17. Valuing the Advisor for Life Practice.
Chapter 18. Taking Care of #1
Appendix A. The Practical Analysis.
Appendix B. Investment Policy Statement.
Appendix C. The Top-Twenty Client Analysis.
Bibliography.
Index.