Aesthetics: The Classic Readings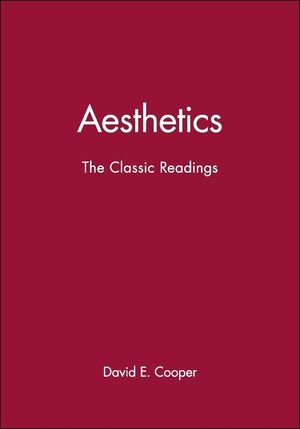 Aesthetics: The Classic Readings
ISBN: 978-0-631-19569-6
Dec 1997, Wiley-Blackwell
282 pages
Description
This is the first volume to be published in an exciting new series of classic collections in philosophy.
Series Preface.
Introduction.
1. Republic, Book 10: Plato.
2. Poetics, Chapters 1-13: Aristotle.
3. Against Music:Mo Tzu.
A Discussion of Music: Hsun Tzu.
4. Enneads, 1.6: Plotinus.
5. Quotes on Painting: Shih-t'oa.
6. Of the Standard Taste: Hume.
7. Critique of Aesthetic Judgement 1-13, 16, 23-4, 28: Kant.
8. On the Aesthetic Education of Man, Letters 26-7: Schiller.
9. Introduction to Aesthetics, Chapters 1-3: Hegel.
10. The World as Will and Representation, Vol I 52: Schopenhauer.
11. On Art: Tolstoy.
12. Art, Chapter 1: Bell.
13. The Dance of Siva, Chapters 2-3: Coomaraswamy.
14. Art as Experience, Chapter 1: Dewey.
15. On the Origin of the Work of Art: Heidegger.
16. The Principles of Art, Chapter 7: Collingwood.
Index.
"The finest aesthetics anthology available. Cooper has boiled his selections down to the truly classic writings, visionary and formative, and provided crisp insightful introductions. No other anthology matches his in the rich depth of reflections on art and the aesthetic to be found in the selections chosen."
Nicholas Wolterstorff, Yale University
<!--end-->"What Cooper offers is a manageable, wide-ranging yet economical, and carefully reasoned selection for beginning students in aesthetics." Joseph Margolis, Temple University
* Includes the key historical texts in aesthetics, from Plato to Collingwood.
* Contains essays from Asian philosophers to provide a comprehensive guide to the topic.
* Begins with a short introduction to set the historical and philosophical scene.