Affairs: A Guide to Working Through the Repercussions of Infidelity, (Special Large Print Amazon Edition)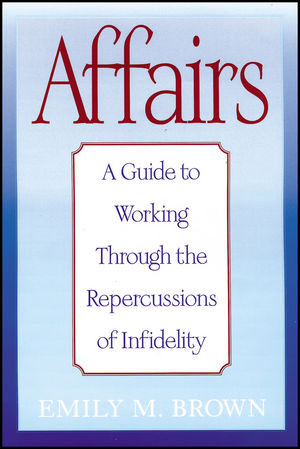 Affairs: A Guide to Working Through the Repercussions of Infidelity, (Special Large Print Amazon Edition)
ISBN: 978-1-118-49360-1
Sep 1999, Jossey-Bass
272 pages
Description
A Wonderfully Supportive Guide from an Internationally Recognized Authority on Affairs
"Emily Brown has written a must-read book for anyone going through the searing pain of infidelity. First she deciphers the five types of affairs, then she gives clear step-by-step procedures to help both partners deal with it and even grow from it. It's a real achievement."
—Marguerite Kelly, syndicated columnist, The Family Almanac and author, Marguerite Kelly's Family Almanac
"Finally, a book on affairs that pulls no punches!. . . . It's the book I'll put at the top of my list to recommend to both professionals and to husbands, wives, and lovers. Highly recommended."
—Isolina Ricci, author, Mom's House, Dad's House: The Complete Guide for Parents Who Are Separated, Divorced, or Remarried
Preface.
Acknowledgments.
Chapter 1 The Five Types of Affairs.
Chapter 2 The Two Sides of Telling: Will I, Won't I . . . / Do I Want toKnow?
Chapter 3 Facing the Affair.
Chapter 4 Flashpoints for Violence.
Chapter 5 Letting Go of Obsession.
Chapter 6 Working on the Marriage: Building a Sense of Trust and Belonging.
Chapter 7 Working on Your Self: Healing Childhood Wounds.
Chapter 8 Rebuilding When Your Marriage Ends with an Affair.
Chapter 9 Getting Help That Is Helpful.
Chapter 10 Talking with Your Children, Your Friends, and Your Family.
Chapter 11 Examining the Single Side of the Triangle.
Chapter 12 Making Peace, Moving On.
Notes.
Recommended Reading.
Resources.
About the Author.
About the Affairs.
Help Web Site.
Index.