Africa Confidential: Who's Who of Southern Africa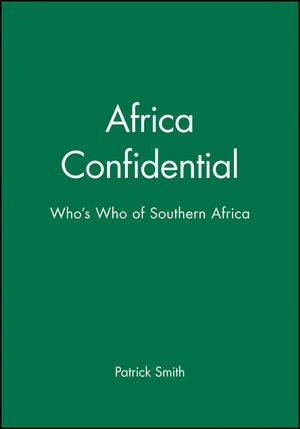 Africa Confidential: Who's Who of Southern Africa
ISBN: 978-0-631-20542-5 August 1998 Wiley-Blackwell 256 Pages
Description
Using its formidable network of correspondents and contacts, Africa Confidential has produced 400 incisive biographies and commentaries on the people who are shaping Southern Africa, ranging from politicians, business people and the military to writers and religious leaders.
1. South Africa Country profile and 120 biographies.
2. Angola Country profile and 60 biographies.
3. Mozambique Country profile and 60 biographies.
4. Zambia Country profile and 80 biographies.
5. Zimbabwe Country profile and 80 biographies.
6. Research and editorial coordination: Juliet Amissah.
"Patrick Smith, his research-Sherpa Juliet Amissah and the team at the authoritative London-based newsletter Africa Confidential have produced a superb slice of political life in a much-misunderstood region. Apart from its use as a reference tool and contact manual, this book distils four turbulent decades through thumbnail sketches of vital players ... this is a definitive political snapshot of fin-de-siècle Southern Africa." Andrew Manley, Times Literary Supplement <!--end-->
* 400 detailed biographies of the people shaping Southern Africa.
* Reliable and informed political analysis on every entry.
* Economic and political profiles of South Africa, Angola, Mozambique, Zambia and Zimbabwe.