African American Healers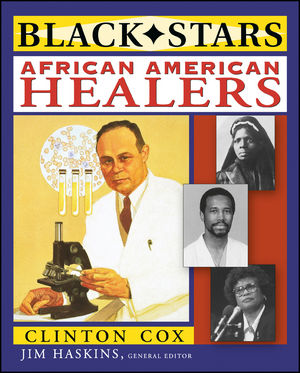 African American Healers
ISBN: 978-0-471-24650-3 December 1999 176 Pages
Description
Throughout American history, determined African Americans havebecome healers. As doctors, nurses, and scientists, they have madevital contributions to the health of the American people.

The road to attaining the knowledge these healers longed for was adifficult one. But they kept going, despite the obstacles. Thesehealers would not only mend the ills of the sick, but would alsofound schools, build hospitals, and fight for equal treatment aswell as for the rights of their patients.

These true and inspiring stories of some of the great AfricanAmerican healers show you how:

Dr. James Durham, the first African American doctor, saved thelives of more yellow fever victims than most doctors in colonialPhiladelphia.
* Susie King Taylor began nursing both black and white soldiers atthe age of thirteen when the Civil War began and cared for themthroughout the war.
* Dr. Daniel Hale Williams, who founded Provident Hospital inChicago, saved a patient's life by performing the first successfulopen-heart operation.
* Dr. Justina Laurena Ford, the first black female physician in theRocky Mountains, treated patients of all races in their homes, andbecame fluent in eight languages.
* Dr. Charles Drew invented the blood bank and discovered new usesfor plasma.
* Dr. Benjamin Carson blazed a trail in the amazing field of brainsurgery.

This outstanding collection brings to light these and dozens ofother exciting and surprising tales of the men and women ofmedicine who lived their dreams.
THE EARLY YEARS.

Dr. James Durham.

James McCune Smith, M. D.

THE CIVIL WAR YEARS AND RECONSTRUCTION.

Major Martin Robison Delany.

John S. Rock, M. D.

Dr. Alexander T. Augusta.

Susie King Taylor.

Rebecca Lee (Crumpler), M. D.

Charles Burleigh Purvis, M. D.

INTO THE NEW CENTURY.

Mary Eliza Mahoney.

Nathan Francis Mossell, M.D.

Daniel Hale Williams, M. D.

George Cleveland Hall, M.D.

Austin Maurice Curtis, M. D.

Adah Belle Thoms.

Justina Laurena Ford, M. D.

Louis Tompkins Wright, M. D.

William Augustus Hinton, M.D.

Charles Richard Drew, M. D.

Percy Lavon Julian, Ph.D.

MODERN TIMES.

Alvin Francis Poussaint, M. D.

Benjamin Solomon Carson, M. D.

Deborah Prothrow-Stith, M. D.

Joycelyn (Jones) Elders, M. D.

David Satcher, M. D.

Chronology.

Notes.

Bibliography.

Picture Credits.

Index.