African American Historic Places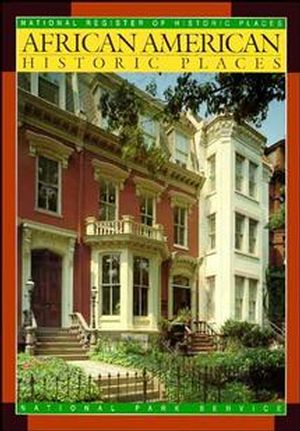 African American Historic Places
ISBN: 978-0-471-14345-1 October 1994 624 Pages
Description
Culled from the records of the National Register of Historic Places, a roster of all types of significant properties across the United States, African American Historic Places includes over 800 places in 42 states and two U.S. territories that have played a role in black American history. Banks, cemeteries, clubs, colleges, forts, homes, hospitals, schools, and shops are but a few of the types of sites explored in this volume, which is an invaluable reference guide for researchers, historians, preservationists, and anyone interested in African American culture. Also included are eight insightful essays on the African American experience, from migration to the role of women, from the Harlem Renaissance to the Civil Rights Movement. The authors represent academia, museums, historic preservation, and politics, and utilize the listed properties to vividly illustrate the role of communities and women, the forces of migration, the influence of the arts and heritage preservation, and the struggles for freedom and civil rights. Together they lead to a better understanding of the contributions of African Americans to American history. They illustrate the events and people, the designs and achievements that define African American history. And they pay powerful tribute to the spirit of black America.
Partial table of contents:

Social History and the African American Experience (J.Horton).

From Place to Place: African American Migration and Historic Sites(J. Grossman).

The African American Legacy Beneath Our Feet (T. Singleton).

Lifting as We Climb: African American Women and Social Activism(1800-1920) (C. Peterson).

The Preservation Movement Rediscovers America (E. Lyon & F.Williamson).

Alabama.

Arizona.

Colorado.

Delaware.

Florida.

Georgia.

Idaho.

Iowa.

Kansas.

Maine.

Maryland.

Montana.

New Jersey.

New York.

Ohio.

Puerto Rico.

Tennessee.

Texas.

Utah.

Virgin Islands.

West Virginia.

Further Reading.

Indexes.