African American Politics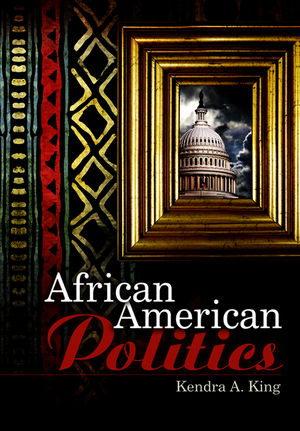 African American Politics
ISBN: 978-0-745-63280-3 January 2010 Polity 288 Pages
Description
African-American Politics is a cutting-edge introduction to the political successes, failures, and persistent challenges of African-American political participation in the United States. Exploring both historic and present day political phenomena, the book draws on a wide range of sources, including U.S. Census data, Gallup Polls, landmark court opinions, speeches and first-hand interviews to provide the reader with a comprehensive and up-to-the-minute analysis of what often appear to be "irreconcilable differences" between the American political system and one of its most historically subjugated constituency groups.
Amongst the key topics covered are:


symbolic versus substantive politics


the impact of race on socio-economic status


the post -Civil Rights leadership vacuum


the rise of Black Conservatism and "New Black Politics"


the political significance of Black Mega-Churches


the emergence of "Hip Hop" as an alternative political voice


the future of African - American Politics
This book will be essential reading for students of American and minority politics, African - American studies and related disciplines. It will serve as a catalyst for dialogue for anyone interested in the role of African Americans in contemporary US political life.
For more information and resources visit the accompanying series website: www.politybooks.com/minoritypol
Table of contents
Acknowledgments
Chapter 1 Introduction
Chapter 2 African Americans and Democracy
Chapter 3 African Americans and Dollars & Sense
Chapter 4 African Americans and Voting Behavior
Chapter 5 African Americans and Congress
Chapter 6 African Americans and the President
Chapter 7 African Americans and the Judiciary
Chapter 8 African Americans and Political Parties
Chapter 9 African Americans and Interest Groups
Chapter 10 African Americans and the Civil Rights Movement
Chapter 11 African Americans and the Black Church
Chapter 12 African Americans and the Politics of Hip Hop
Chapter 13 Where Do We Go From Here?
Glossary
Works Cited
Reviews
 "
African American Politics
is likely to be a very useful volume for students and for general readers seeking a context for understanding the Obama election and contemporary racial politics. The book elegantly melds mainstream political science ideas and topics with innovative themes, a sophisticated historical consciousness, and continued demonstration of the ways in which African American politics is, and is not, American politics tout court."
Jennifer L. Hochschild, Harvard University

"Kendra King's text captures the complex interaction between African Americans and US political institutions. It provides a deep understanding of the hopes and dreams of a population often left on the outside of American democracy and how that experience is critical to understanding American political institutions and politics. Students of African American politics in particular and American politics in general will be well served by reading this text."
Mark Sawyer, University of California
What's New
cutting-edge introduction to the political successes, failures, and persistent challenges of African-American political participation in the United States
the book includes an up-to-date assessment of Barack Obama's presidential race
draws on a wide range of sources, including U.S. Census data, Gallup Polls, landmark court opinions, speeches and first-hand interviews
new and cutting edge material on the political significance of Black Mega-Churches and the emergence of "Hip Hop" as an alternative political voice
essential reading for students of American and minority politics, African – American studies and related disciplines

a volume in the Polity series in US Minority Politics