After Criticism: New Responses to Art and Performance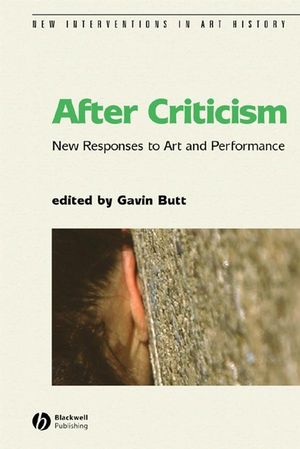 After Criticism: New Responses to Art and Performance
ISBN: 978-0-631-23283-4 July 2004 Wiley-Blackwell 232 Pages
Download Product Flyer
Download Product Flyer
Download Product Flyer is to download PDF in new tab. This is a dummy description. Download Product Flyer is to download PDF in new tab. This is a dummy description. Download Product Flyer is to download PDF in new tab. This is a dummy description. Download Product Flyer is to download PDF in new tab. This is a dummy description.
Description
It has recently become apparent that criticism has fallen on hard times. Either commodification is deemed to have killed it off, or it has become institutionally routine. This book explores contemporary approaches which have sought to renew criticism's energies in the wake of a 'theatrical turn' in recent visual arts practice, and the emergence of a 'performative' arts writing over the past decade or so.
Issues addressed include the 'performing' of art's histories; the consequences for criticism of embracing boredom, distraction and other 'queer' forms of (in)attention; and the importance of exploring writerly process in responding to aesthetic experience. Bringing together newly commissioned work from the fields of art history, performance studies, and visual culture with the writings of contemporary artists, After Criticism provides a set of experimental essays which demonstrate how 'the critical' might live on as a vital and efficacious force within contemporary culture.
Table of contents
List of Illustrations vii
Notes on Contributors viii
Series Editor's Preface xi
Introduction: The Paradoxes of Criticism 1
Gavin Butt
Part I Performing Art's Histories 21
1 Solo Solo Solo 23
Rebecca Schneider
2 Binding to Another's Wound: Of Weddings and Witness 48
Jane Blocker
3 This is I 65
Niru Ratnam
Part II Distracted and Bored: The Critic Looks Elsewhere 79
4 The Trouble with Men, or, Sex, Boredom, and the Work of Vaginal Davis 81
Jennifer Doyle
5 Utopia's Seating Chart: Ray Johnson, Jill Johnston, and Queer Intermedia as System 101
José Esteban Muñoz
6 Looking Away: Participations in Visual Culture 117
Irit Rogoff
Part III Critical Response/Performative Process 135
7 Itinerant Improvisations: From "My Favorite Things" to an "agency of night" 137
John Seth
8 The Experience of Art as a Living Through of Language 156
Kate Love
9 A Transparent Lecture 176
Matthew Goulish
Selected Bibliography 207
compiled by Andrew Walby
Index 212
Reviews
"
After Criticism
is crucial to any discussion regarding the status of criticism and critical theory after post-structuralism and, equally importantly, is one of few texts that is innovative in its illumination of context, history, aesthetic judgement and, rare for an academic text, enjoyable to read."
Art Monthly
"After Criticism is no doubt the most intriguing collection of performative writing published yet. Being refreshing, entertaining as well as inspiringly confusing, it is essential reading for anyone writing on art who does not only think of what to write, but also how to write it." Contemporary

"Though it seems contradictory to write words of praise for a book that deeply interrogates the marketability of praiseful language (in the guise of art criticism), Gavin Butt's collection deserves them. Framed by Butt's astute introduction, these performative essays pulse with vitality. Food for thought, this book makes us think, again, about art and its interpretations in a new way. Critical writing as a kind of performance – delicious." Amelia Jones, University of Manchester

"This anthology is an excellent overview of performative critical discourse edited and introduced by one of its leading proponents. All the contributions have an experimental or improvisational edge that preserves a sense of the critical encounter. The book is at the cutting edge of art theory and will be read with enthusiasm by a large number of people engaged with contemporary art practice and criticism." Margaret Iversen, University of Essex
Features


Addresses the changing nature of art production, interpretation, and spectatorship in contemporary art.

Focuses on key developments that have taken place in the past decade in the work of selected art historians, writers on visual culture, artists, and art critics.

Presents a provocative set of responses to what is most vibrant and challenging about today's art scene.