After Effects 5 Bible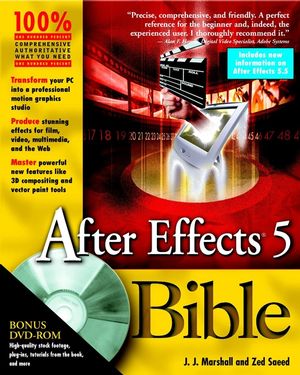 After Effects 5 Bible
ISBN: 978-0-764-53655-7
May 2002
936 pages
Product not available for purchase
Description
After Effects has been established as the world's most powerful and cost-effective solution for motion graphics professionals. The application has revolutionized the broadcast industry. Proof of the revolution was clear when the mid-1990s revealed a dazzling array of visual artistry in ad campaigns and television network promotions, the quality and the quantity of which had never been seen.

Version 5.0 was a major upgrade (3D, expressions, parenting, to name a few) and Version 5.5 could hardly be considered a dot release. Truly phenomenal software, this build of After Effects boasts a variety of new features as well as vast enhancements to its user interface. There are numerous new filters for concretizing any visual effects that the mind can envision. Additionally, After Effects 5.5 includes improved 3D-compositing capabilities, greater command over expressions with the Expression Controls effects, as well as native support for OSX, among numerous other improvements.

The After Effects Bible looks into every aspect of the application. Whether you're completely new to motion graphics, or an experienced hand looking for ways to get the most out of the recent upgrade, there is valuable, time-saving information to be found in each chapter. There are step exercises for everything from creating complex keyframe animations to animating cameras in 3D space. Whether it's read from front-to-back or used as a desktop reference, the After Effects Bible belongs in the motion graphic designer's library.
Foreword.

Preface.

Acknowledgments.

Quick Start: Making a Movie with After Effects.

Part I: Welcome to After Effects 5.

Chapter 1: Working in After Effects: Finding Your Way Around the Interface.

Chapter 2: Importing Media: Bringing Things In.

Chapter 3: Moving Your Artwork.

Chapter 4: Setting Your Preferences.

Part II: Keyframes and Rendering.

Chapter 5: Sharpening Positional Animations.

Chapter 6: Improving Keyframe Animations.

Chapter 7: Working the Render Queue.

Chapter 8: Building Complex Compositions.

Part III: Broadening Animation Skills: Masks, Transparency and Time.

Chapter 9: Making Use of Masks.

Chapter 10: Creating Mattes: Creative Hole-Punching.

Chapter 11: Mixing It Up with Transfer Modes.

Chapter 12: Manipulating Time: Relativity in After Effects.

Part IV: Using Effects: The Big Fun.

Chapter 13: Photoshop in Motion: Color Correction and Selective Blurring.

Chapter 14: Changing Channels and Colors.

Chapter 15: Simulating Natural Physics: Perspective, Light, and Sound.

Chapter 16: Designing with Style.

Chapter 17: Warping and Morphing Matter.

Chapter 18: Particle Playground.

Chapter 19: Keying and Knockouts.

Chapter 20: Vector Painting.

Part V: Aiming Higher: Advanced Techniques.

Chapter 21: Working with Text Within After Effects.

Chapter 22: Working with Text Outside After Effects.

Chapter 23: Putting Math in Motion: Using Motion Math Scripts.

Chapter 24: Adding the Third Dimension to Your Design.

Chapter 25: Adding Expressions to Your Arsenal.

Chapter 26: Improving Your Visuals with Sound.

Chapter 27: Wiggling, Tracking, and Stabilizing.

Part VI: Rendering for All Media.

Chapter 28: Juggling Format Issues.

Chapter 29: Prepping for Editors.

Part VII: Appendixes.

Appendix A: After Effects Resources.

Appendix B: Keyboard Shortcuts for the Mac.

Appendix C: Keyboard Shortcuts for Windows.

Appendix D: What's on the DVD-ROM.

Index.

Ads.

End-User License Agreement.
Chapter
Page
Details
Date
Print Run
CD
Missing YellowJacket.bin file from CD
Go to the download page for the missing YellowJacket.bin file.

---