After MacIntyre: Critical Perspectives on the Work of Alisdair MacIntyre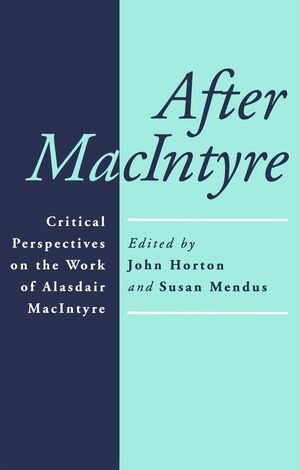 After MacIntyre: Critical Perspectives on the Work of Alisdair MacIntyre
ISBN: 978-0-745-61355-0 August 1994 Polity 336 Pages
Description
This is an important full-length study of the work of this controversial thinker by leading political philosophers and social theorists, and includes a reply written by MacIntyre.
Table of contents
Preface.
1. Alasdair MacIntyre: After Virtue: John Horton and Susan Mendus (University of York).
2. Justice After Virtue: Charles Taylor.
3. Reclaiming the Aristotelian Ruler: Peter Johnson.
4. MacIntyre and Aquinas: Janet Coleman.
5. MacIntyre's Thomist Revival: What Next?: John Haldane.
6. Projecting the Enlightenment: Robert Wokler.
7. MacIntyre's Critique of Utilitarianism: Paul Kelly.
8. MacIntyre and Historicism: Robert Stern.
9. MacIntyre's Fusion of History and Philosophy: Gordon Graham.
10. Liberal/Communitarian: MacIntyre's Mesmeric Dichotomy: Philip Pettit.
11. Liberalism, Morality and Rationality: MacIntyre, Rawls and Cavell: Stephen Mulhall.
12. MacIntyre on Liberalism and its Critics: Tradition, Incommensurability and Disagreement: Andrew Mason.
13. Virtues, Practices and Justice: David Miller.
14. MacIntyre, Feminism and the Concept of Practice: Elizabeth Frazer and Nicola Lacey.
15. A Partial Response to My Critics: Alasdair MacIntyre.
Selected Bibliography of the Publications of Alasdair Chalmers MacIntyre.
Index.
Reviews
'MacIntyre is generally regarded as the most interesting, influential, and provocative figure in moral philosophy today. This timely and wide-ranging collection provides an important assessment of his work.'
Jonathan Wolff, University College London
'After MacIntyre will be very useful to students: the essays are of a high standard, and it has an excellent bibliography.' The Philosopher
'Opens with a comendably clear account by the editors of MacIntyre's working development; and of the major themes of his later work. It closes with a response from MacIntyre himself together with an appended selected bibliography of his work. Selected it may be, but it is certainly the most extensive apparatus I have seen on MacIntyre and this alone would make it a required acquisition for any library.' Sociology
'In this book, Susan Mendus and John Horton have assembled a goodly company of critics to assault the emerging and formidable Thomistic citadel that Alasdair MacIntyre has been gradually building over the last thirteen years ... the book is a superb set of essays which deserve and will repay careful reading and study.' Nick Rengger, University of Bristol
'Considering the range of conflicts this volume embodies, it might conceivably be seen as a microcosm of Anglo-American moral and political philosophy in the 1990s: intriguing and chaotic, entertaining and infuriating - all told, something of a bun-fight, but more instructive than usual. An introductory essay by the editors, John Horton and Susan Mendus, does much to provide an aerial view of the terrain, summarizing both MacIntyre's recent work and the range of issues debated by contributors.' The Philosophical Quarterly
What's New
* This is a major study of the work of Alasdair MacIntyre - one of the most controversial thinkers of our time - by leading political philosophers and social theorists.
* The book consists of a collection of original essays, each examining a specific aspect of MacIntyre's work.
* The book contains a substantial contribution from MacIntyre himself in which he responds to the issues raised by the other contributors.
* The volume is a major contribution to its field.