After Restructuring: Empowerment Strategies at Work in America's Hospitals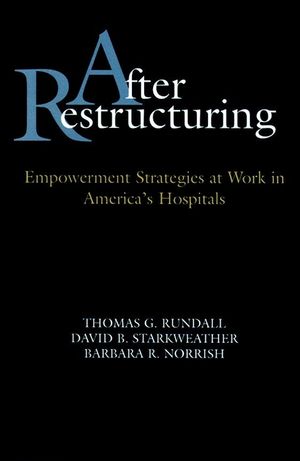 After Restructuring: Empowerment Strategies at Work in America's Hospitals
ISBN: 978-0-787-94029-4
Sep 1998, Jossey-Bass
296 pages
Description
Managing Change

An in depth treatment of organizational change in hospitals. After Restructuring provides a mother-lode of insights and lessons that will be mined for years. A must read for all those committed to improving hospital performance in a radically changing health care system.
--Stephen M. Shortell, Blue Cross distinguished professor of health policy and management professor of organization behavior, School of Public Health, University of California, Berkeley

After Restructuring debunks the myths surrounding hospital change and offers insightful and practical recommAndations for successful restructuring. This valuable book is based on the work of a team of health services researchers headed up by Thomas Rundall, director of the Center for Health Management Studies at the University of California, Berkeley. The book reports the results of a three year study of nine hospitals, an unaffiliated group of facilities in urban, rural, and suburban regions that received funding from The Robert Wood Johnson Foundation and the Pew Charitable Trust to restructure patient care processes.

The authors present a framework for understanding organizational change and define the principles that guide change facilitators through the five stages of change--readiness to change, awareness of the need to change, identification and selection of changes, implementation, and institutionalization of changes. The standards derived from the change experiences of these hospitals provide important best practice guidelines.
Part 1: Restructuring Hospitals to Improve Patient Care
1. The Changing American Hospital: New Approaches to Patient Care
2. Strengthening Hospital Nursing: A Program to Improve Patient Care
3. The Bounding of Empowerment: Managing Change with Empowered Persons
Part 2: Strategies for Successful Restructuring
4. Studying for Successful Restructuring
5. Changes Implemented by SHN Hospitals
6. Principles of Successful Change
Part 3: After Restructuring: Empowerment Strategies at Work
7. The Impact of Restructuring on Nursing and Patient Care
8. The Impact of Restructuring on Hospital Culture
Part 4: The Cases
9. The Strategic Imperative: Abbott Northwestern Hospital
10. If It Ain't Broke, Fix It! Beth Israel Hospital
11. All Politics is Local: District of Columbia General Hospital
12. "You Can't Do Anything Unless You Change the Culture": Health Bond Consortium
13. Maintaining Mission Through Organizational Change: Providence Portland Medical Center
14. Building Networks to Improve Patient Care: The Rural Connection
15. Collaborating to Compete on Quality: University Hospitals of Cleveland
16. The Hospital As Academic Laboratory: University of Utah Hospitals and Clinics
17. From a Knowing Organization to a Learning Organization: Vanderbilt University Hospital
"An in-depth treatment of organizational change in hospitals. After Restructuring provides a mother lode of insights and lessons that will be mined for years. A must-read for all those committed to improving hospital performance in a radically changing health care system." --Stephen M. Shortell, Blue Cross of California Distinguished Professor of Health Policy and Management; professor of Organization Behavior, School of Public Health, University of California, Berkeley

"Unusual in its sensitivity to clinical and managerial agAndas, this book demonstrates how hospital re-engineering principles can empower caregivers to improve hospital performance. Anyone hoping to change hospitals, or expecting to be affected by hospital changes, should read this book." --Linda H. Aiken, director, Center for Health Services and Policy Research, University of Pennsylvania

"I would recommAnd this pathbreaking book to any health care executive, manager, physician, nurse, and anyone who is working to improve the performance of health care organizations." --Mary A. Pittman, president, Health Research and Educational Trust