After Success: Fin-de-Siecle Anxiety and Identity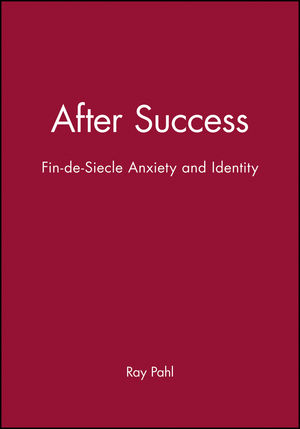 After Success: Fin-de-Siecle Anxiety and Identity
ISBN: 978-0-745-61334-5 November 1995 Polity 240 Pages
Description
This is an accessible sociological exploration of the troubles many people face in a new age of anxiety, drawing on interviews with various "successful" individuals and examining the meaning of "success" today.
Preface.
1. Introduction: Mortality, the Individual and Society.
2. Success in Shame Cultures and Guilt Cultures.
3. Managing Without Success 1960-1990.
4. Styles of Success in Business.
5. The Neurosis of Success.
6. Success-Led or Anxiety-Driven?.
7. Working for Self Identity.
8. From Hoccleve's Complaint to the Anxious Class.
9. Seeking Balance.
Appendix.
Bibliography.
Index.
'Outstanding ... the most clarifying work of sociology I've ever read ... essential.'
Pat Kane, New Statesman and Society
'Stimulating analysis ... the great merit of Pahl's book is that his critique of post-modernist assumptions about the self and anxiety points up this misleading conflation of the soical and the psychological, and makes him aware of the misuses of 'tradition' and over-socialised conceptions of the individual.' Work, Employment and Society
'A characteristically bold and provocative text ... extremely interesting.' Time and Society

'One of the most stimulating and relevant works I have read for a long time.' Sociology
* An accessible sociological exploration of the problems affecting the majority of people living in modern societies, including the "successful" members of society.
* Uses interviews with a diversity of successful people which provide highly articulate, vivid and memorable accounts of their lives.
* Presents new insights into the troubles many people are now experiencing in a new age of anxiety.