After Terror: Promoting Dialogue Among Civilizations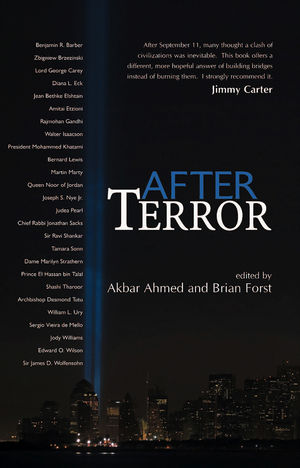 After Terror: Promoting Dialogue Among Civilizations
ISBN: 978-0-745-63502-6 April 2005 Polity 160 Pages
Description
After Terror presents sustained reflections by some of the world's most celebrated thinkers on the most pressing question of our time: how can we find ways to defuse the ticking bombs of terrorism and excessive interventions against it? It offers an antidote to the fatalistic global holy war perspective that afflicts much contemporary thought, focusing instead on the principles, issues, and acts needed to shift course from alienation and conflict to a path of sanity and goodwill among cultures and civilizations.
The central aim of the book is to advance contemporary thinking on the causes and implications of 9/11 and thus provide the essential elements of a blueprint for humanity. It features 28 original essays by some of the world's leading public figures, scholars, and religious leaders, including Benjamin Barber, Zbigniew Brzezinski, Jean Bethke Elshtain, Amitai Etzioni, Bernard Lewis, Martin Marty, Queen Noor, Joseph Nye, Judea Pearl, Jonathan Sacks, Ravi Shankar, Bishop Desmond Tutu, E.O. Wilson and James D. Wolfensohn.
After Terror attests to the power of dialogue and mutual understanding and the possibility of tolerance, respect, cooperation, and commitment. Without ignoring the dangers of the modern world, it points to a future in which people can celebrate both the fundamental sentiments and interests that we share and the diversities that make us human.
Table of contents
Acknowledgments x
Contributor Biographies in Brief xii
Part I Introduction 1
1 Toward a More Civil Twenty-first Century
Akbar Ahmed and Brian Forst 3
Part II The Nature and Sources of the Problem 13
2 The Simple Power of Weakness, the Complex Vulnerability of Power
Zbigniew Brzezinski 15
3 Dialogue and the Echo Boom of Terror: Religious Women's Voices after 9/11
Diana L. Eck 21
4 Closing Chapters of Enmity
Rajmohan Gandhi 29
5 Benjamin Franklin's Gift of Tolerance
Walter Isaacson 36
6 God's Word and World Politics
Archbishop Desmond Tutu 39
Part III Pathways to Dialogue and Understanding 45
7 The Role of the Media in Promoting Tolerance
Shashi Tharoor 47
8 Civilization, Human Rights, and Collective Responsibility
Sergio Vieira de Mello 55
9 Endless Enemies or Human Security
Jody Williams 66
10 Dialogue among Civilizations and Cultures
President Seyed Mohammed Khatami 72
11 Transnational Moral Dialogues
Amitai Etzioni 79
12 In Other People's Shoes
Dame Marilyn Strathern 85
13 A Universal Language, without Boundary or Prejudice
Sir Ravi Shankar 90
14 Dialogue among Civilizations
Kofi Annan 94
15 The Productive Airing of Grievances
Lord George Carey 98
16 All of Man's Troubles
Edward O. Wilson 106
17 Turning Enemies into Friends
Chief Rabbi Jonathan Sacks 112
18 Security through Dialogue
Queen Noor of Jordan 119
19 The Power of Dialogue: Redefining "Us"
Tamara Sonn 131
20 On Clash, Morality, Renaissance, and Dialogue
Judea Pearl 138
21 The Just War Tradition and Cultural Dialogue
Jean Bethke Elshtain 145
22 Celebrating Differences on our Melting Pot Planet
Prince El Hassan bin Talal 149
Part IV From Concern to Action 155
23 Clash or Dialogue of Cultures?
Bernard Lewis 157
24 The Fellowship of Dialogue
James D. Wolfensohn 159
25 Hard Power and Soft Power
Joseph S. Nye Jr 166
26 Global Governance in an Interdependent World
Benjamin R. Barber 171
27 Getting to Peace: Awakening the Third Side
William L. Ury 179
28 Risking Hospitality
Martin Marty 186
Index 191
Reviews
"If you are looking for reading that is thought-provoking, incisive, and challenging, After Terror is the perfect book to read."
Friday Times

"It is good to have a work which includes within its covers the reflections of [the] President of the World Bank, an international activist who founded the International Campaign to Ban Landmines and who was awarded the Nobel Peace Prize in 1997 for her extraordinary activities in clearing anti-personnel mines from battle zones, and one of the most respected of contemporary musicians. This ensures that there is something for everyone in this compilation!"
Muslim World Book Review
Features


A major new trade title on one of the hottest topics in current affairs and world politics.

Brings together 28 specially commissioned essays by some of the world's most celebrated public figures and political and religious laeders including Bishop Desmond Tutu, George Carey, Jonathan Sacks, Queen Noor of Jordan, Rajmohan Gandhi, Joseph Nye, Benjamin Barber, Ravi Shankar, James D. Wolfensohn and E.O. Wilson, .

The pieces are written in a clear and compelling style for a wide readership of opinion leaders, scholars and concerned members of the public.

After Terror is also likely to gain adoptions on the increasing number of terrorism courses across the world.

As the book explicitly aims to open up dialogue between different culturse and religions, it is likely to attract good media coverage and attention, especially as the editors are hugely successful self-publicists.