Afterschool Around the Globe: Policy, Practices, and Youth Voice: New Directions for Youth Development, Number 116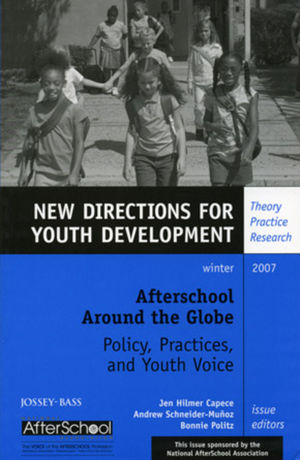 Afterschool Around the Globe: Policy, Practices, and Youth Voice: New Directions for Youth Development, Number 116
ISBN: 978-0-470-28239-7
Mar 2008, Jossey-Bass
168 pages
Description
Afterschool presents in a variety of forms across the globe. This developmental time, variously referred to as afterschool, out-of-school-time, or free time, can range from workforce preparation for twenty-year-olds in South Africa to safe spaces and healthy activities for eight-year-olds in New Zealand.

The global contributors to this issue share knowledge and commitment to effective afterschool efforts. They focus on meaningful youth participation in a wide variety of venues and settings. Building global citizens, giving youth an economic edge, and combining self-interest and learning are some of the underlying outcomes described throughout this volume. It draws out lessons learned across cultural and geographical borders and addresses significant policies and quality standards.

This is the 116th volume of the Jossey-Bass quarterly report series New Directions for Youth Development, sponsored by the National AfterSchool Association.
Introduction 1
Judy Nee
Editors' Notes: We Hope You Will Palaver 5
Jen Hilmer Capece, Andrew Schneider-Muñoz, Bonnie Politz
Executive Summary 9
Part One: Cross-System Afterschool Learning for Youth Voices
1. Out-of-school services in Europe: How we learn from each other 15
Ria Meijvogel
This article provides an overview of how out-of-school practitioners, researchers, trainers, and policymakers have exchanged methods and skills throughout Europe over the past twenty years.
2. Advancing global citizens: Afterschool and out-of-school time as common ground for civil society 23
Andrew Schneider-Muñoz, Bonnie Politz
This article focuses on innovative approaches to build and promote the civic mission of afterschool and out-of-school time.
3. Summer learning programs and student success in the global economy 35
Jeffrey D. Smink
Summer learning programs are uniquely qualified to foster creativity and innovation in students around the world, preparing them for future success in the global economy.
4. The ideas and rationale behind the Extended Schools Agenda in England 49
Fiona Mortlock
Britain has shone the political spotlight on out-of-school activities. Take away the politics, and see how providers are engaging with children and young people to inform their practice and improve their provision.
5. Quality out-of-school care in Aotearoa/New Zealand 59
Christine Walter
Out-of-school care in Aotearoa/New Zealand is growing up. With the government's vision of providing women with choices, the need for out-ofschool care is developing, and the sector works hard to keep up with the need.
6. From spontaneous play and hanging out to out-of-school-time programming: An American perspective 71
Karen VanderVen
Quality issues in out-of-school time in such areas as activities and youth involvement are being addressed in American programs.
Part Two: Country-Specific Afterschool Examples of Youth Voices
7. Community YouthMapping: Female youth voices through empowerment and workforce preparation 87
Shoroke H. Zedan
Community YouthMapping has proven to disadvantaged youth, especially females, that acquiring skills and job market training allows them to tap into markets that they have been unable to enter due to their social and economic disadvantages.
8. Feeling close from a distance: Peace encounters via Internet technology 99
Yaacov B. Yablon
Jewish and Arab youth within Israel turn conflict and tension into communication through Internet discussions to encourage dialogue, trust, and peace building.
9. Youth voices thrive in Facilitating Leadership in Youth 109
Mindy Larson Detzler, Charise Van Liew, Lisa Granquist Dorward, Roneka Jenkins, David Teslicko
Facilitating Leadership in Youth's out-of-school programs cultivate innercity youth into leaders through meaningful opportunities, comprehensive support and programs, caring, and time.
10. Amplifying youth voices in the developing world 117
Saori Fotenos, Deepti Rohatgi
Low-literacy, socioeconomically depressed youth at Brazil's Projeto Uerê leverage new video technologies to voice social issues relevant to them.
11. Montreal youth use their voice to transform their lives and prevent violence in their communities: A discussion of the Leave Out Violence program 127
Natasha Lekes
Through a photojournalism program and leadership training, LOVE participants learn skills to eliminate the violence in their lives and become advocates for violence prevention in their communities.
12. Grassroot Soccer resiliency pilot program: Building resiliency through sport-based education in Zambia and South Africa 141
Paola Peacock-Villada, Jeff DeCelles, Peter S. Banda
Grassroot Soccer worked with youth in Zambia and South Africa to develop and evaluate a youth resiliency curriculum to supplement its existing sport-based HIV/AIDS education curriculum. Findings indicate that use of the curriculum had a positive impact on maximizing youth voice and building resiliency.
Index 155