Against Relativism: Philosophy of Science, Deconstruction, and Critical Theory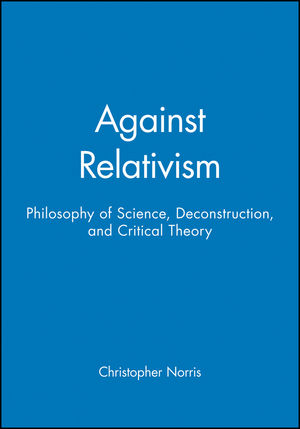 Against Relativism: Philosophy of Science, Deconstruction, and Critical Theory
ISBN: 978-0-631-19865-9 October 1997 Wiley-Blackwell 344 Pages
Description
This book offers a vigorous and constructive challenge to relativism by examining a wide range of anti-realist theories, and in response offering a variety of arguments amounting to a strong defence of critical realism in the natural and social sciences.
Table of contents
Acknowledgements.
Introduction.
1. Metaphor, Concept, and Theory-Change: Deconstruction as Critical Ontology.
2. Deconstruction and Epistemology: Bachelard, Derrida, de Man.
3. Ontological Relativity and Meaning-Variance: A Critical-Constructive Review.
4. Deconstructing Anti-Realism: Quantum Mechanics and Interpretation-Theory.
5. Hermeneutics, Anti-Realism, and Philosophy of Science.
6. Anti-Realism and Constructive Empiricism: Is There a (Real) Difference?.
7. Ontology According to Van Frassen: Some Problems with Constructive Empiricism.
8. Stuck in the Mangle: Sociology of Science and its Discontents.
9. But Will It Fly? Aerodynamics as a Test-Case for Anti-Realism.
10. Why Strong Sociologists Abhor a Vacuum: Shapin and Schaffer on the Boyle/Hobbes Controversy.
11. Leviathan and the Turbojet: A Critique of Sociological Unreason.
Index.
Reviews
"With his characteristic energy and scruple, Christopher Norris has mounted an unusually wide-ranging, cross-disciplinary attack on a family of doctrines - all prominent forms of cultural relativism - tethered to the singular claim that truth is constructed and, therefore is whatever we make of it. Securing that lone thread, Norris weaves before our eyes a tapestry of rogue theories that include anti-realism, social constructionism, the 'strong programme', neopragmatism, relativism, scepticism, Kuhnian and Foucaudlian fashions, and more."
Joseph Margolis, Temple University
"This author provides a great service to modern and postmodern philosphers of science who are held at somewhat of a distance by the writing styles of their counterparts...Norris' survey is extensive...it is wonderful at bringing out how postmodern discussions of language and ontology can be sewn into the fabric of arguments grounded in the assumptions of the Received View." J.F.Metcalfe, Dialogue: Canadian Philosophical Review, Vol.39, No.3
Features


Engages readers in issues of current interest in critical theory, deconstruction and philosophy of science.


Includes an extensive bibliography at end of each chapter.


Lucid writing style to appeal to both specialists and non-specialists.