Agricultural Policy for the 21st Century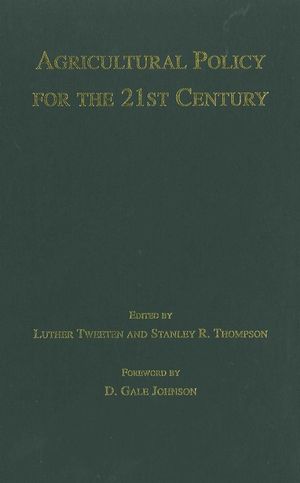 Agricultural Policy for the 21st Century
ISBN: 978-0-470-39037-5
Apr 2008, Wiley-Blackwell
309 pages
Description
Agricultural policy reform has become a very hot topic. Over the next couple of years we will see the funding for these programs being hotly debated. The thesis of this book is that a better-informed public is essential to bring rationality to farm policy. This book provides telling evidence that markets work, that competent commercial farmers will earn returns on their resources as high as those earned elsewhere in the absence of income transfer to farmers.
Foreword.
Preface.
Farm Commodity Programs: Essential Safety Net or Corporate Welfare?.
Ag Policy: Pre-and Post-FAIR Act Comparisons.
The Content of Farm Policy in the 21st Century.
An Empirical Analysis of the Farm Problem.
Income Variability of the U.S. Farm Sector and Public Policy.
Crop Insurance.
Coalitions and Competitiveness: Why Has the Sugar Program Been Resilient?.
Rational Policy Processes for a Pluralistic World.
The Changing Economics of Ag and the Environment.
Farmland is Not Just for Farming Anymore: The Policy Trends.
Kuznets Curves For Environmental Degradation and Resource Depletion.
Competing Paradigms in the OECD and their Impact on the WTO.
Food Security: Trade and Agricultural Commodity Policy.
Index