Agricultural Sector Models for the United States: Descriptions and Selected Policy Applications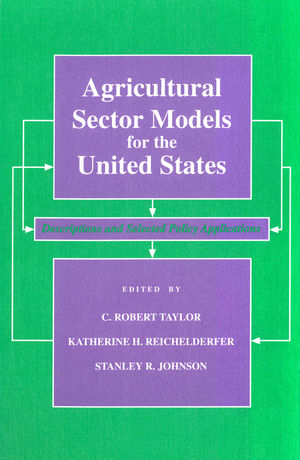 Agricultural Sector Models for the United States: Descriptions and Selected Policy Applications
ISBN: 978-0-813-80862-8
Jan 1991, Wiley-Blackwell
346 pages
Description
Comprehensive comparison of major agricultural modeling methods
Agricultural Sector Models for the United States provides a key reference for economists, legislators, program administrators, and others with a vested interest in agricultural outcomes. Detailing the many quantitative models available, this book offers the first side-by-side comparison of how different models handle the same problem. The accompanying discussion delves into each model's suitability for specific applications, suggests possibilities for improvement, and offers insightful suggestions for reporting model-based analyses.
Introduction.
1 Model Description and Documentation.
2 POLYSIM: A National Agricultural Policy Simulator.
3 AGSIM: An Econometric-Simulation Model of Regional Crop and National Livestock Production in the United States.
4 AGMOD: An Econometric Model of U.S. and World Agriculture.
5 The CARD LP Model: A Documentation Summary.
6 The BLS Model Operated at CARD: A Documentation Summary.
7 The FAPRI Modeling System: A Documentation Summary.
8 General Design of COMGEM: A Macroeconomic Model Emphasizing Agriculture.
2 Policy Evaluation Exercises and Results.
9 Instructions to Modelers and Comparison of the Baselines.
10 Policy Evaluations with POLYSIM: Reduced Target Prices and Unilateral Free Trade.
11 Policy Evaluation Exercises with AGSIM.
12 AGMOD Policy Evaluation.
13 Policy Evaluations with the CARD LP Modeling System.
14 Policy Scenarios with the BLS Model Operated at CARD.
15 Policy Scenarios with the FAPRI Modeling System.
16 Application of COMGEM to Farm Policy Analysis.
3 Comparative Assessment.
17 A Comparative Assessment of Model Results.
18 Utility of Models for Policy Analysis and Decision Making.