Air Pollution and Plant Life, 2nd Edition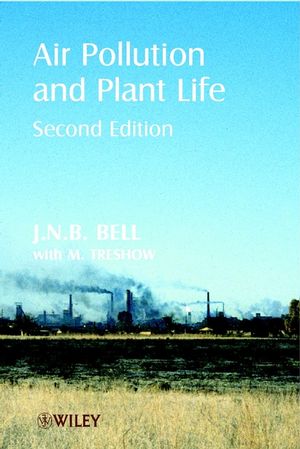 Air Pollution and Plant Life, 2nd Edition
ISBN: 978-0-471-49090-6 May 2002 480 Pages
Description
This standard textbook provides a comprehensive and up-to-date overview of the direct and indirect impacts of air pollution on plant life. Written by an international team of experts, the book covers the main historical aspects and sources of pollutants, atmospheric transport and transformations of pollutants, and issues of global change and the use of science in air pollution policy formulation.
* covers all the main phytotoxic pollutants with due consideration given to impacts at all levels of plant organisation from molecular to ecological.
* emphasises the effects of air pollutants in altering plant response to common stresses, both abiotic and biotic - fields in which considerable progress has been made since publication of the first edition.
* includes coverage of how research leads to pollution control policy development.
Essential reading for students in Environmental Science, Biological Science and Agriculture, as well as environmental consultants and professionals involved in air quality research and the application of air quality guidelines and advice.
Table of contents
Introduction (Nigel Bell & Michael Treshaw)

Historical Perspective (Michael Treshaw & Nigel Bell)

Emissions, Dispersion, Atmospheric Transformation (Roy Colville)

Deposition and Uptake by Vegetation (David Fowler)

Effects of Oxidants at the Biochemical, Cell and Physiological Levels with Particular Reference to Ozone (Stephen Long and Shawna Naidu)

Effects of Oxidants at the Whole Plant and Community level (Michael Ashmore)

Nitrogen Oxides: Old Problems and new Challenges (Terry Mansfield)

Effects of Sulphur Dioxide (Allan Legge & Sagar Krupa)

Effects of Fluorides (Len Weinstein & Del McCune)

Effects of Volatile Organic Compounds (Christopher Collins & Nigel Bell)

Effects of Particulates (Andrew Farmer)

Effects of Increased Nitrogen Deposition (Roland Bobbink & Leon Laners)

Effects of Wet Deposited Acidity (Trevor Ashenden)

Effects of Pollutant Mixtures (Andreas Fangmeier, Juergen Bender, Hans-Joachim Weigel & Hans-Juergen Jager)

Forest Decline and Air Pollution: An Assessment of "Forest Health" in the Forests of Europe, the Northeastern United States and Southeastern Canada (John Innes & John Skelly)

Effects of Acidic Deposition on Aquatic Ecosystems (Ronald Harriman, Richard Batterbee & Don Monteith)

Effects on Bryophytes and Lichens (Jeffrey Bates)

Modification of Plant Response by Environmental Conditions (Gina Mills)

Air Pollutant -
Abiotic Stress Interactions (Alan Davison & Jeremy Barnes)

Effects of Air pollutants on Biotic Stresses (Walter Fluckiger, Sabine Braun & Erika Hiltbrunner)

Effects of Air Pollutants in Developing Countries (Fiona Marshall)

Air Quality Guidelines and their Role in Pollution Control Policy (Michael Ashmore)

Air Pollution and Climate Change (Victor Runeckles)

Future Research Priorities and Directions (Nigel Bell)
Reviews
"...should be studied by many, whose interest lies in the preservation of air quality..." (International Journal of Environment Studies, Vol.60, No.2, 2003)
"...Bell and Treshow have produced what I suspect will be a classic. (Times Higher Educational Supplement, 30 May 2003)
Features
Presents all aspects of this important subject to the student and researcher
Looks at the effects of air pollution on single plants and plant communities and discusses the evolution of pollution resistance
Looks at the effect of individual pollutants on the productivity of plants and also discusses effects on Bryophytes and Lichens
Discusses effects of air pollution in developing countries and looks at the importance of enhancing crop yields in these territories
Presents air quality quidelines and their role in pollution control policy, including US, WHO, EC guidelines.