Al Ward's Photoshop® Productivity Toolkit: Over 600 Time-Saving Actions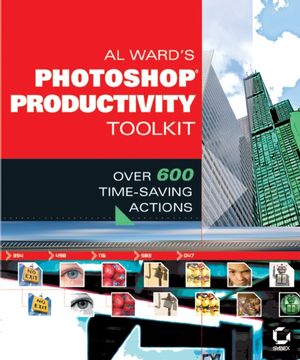 Al Ward's Photoshop® Productivity Toolkit: Over 600 Time-Saving Actions
ISBN: 978-0-782-14334-8
Aug 2004
143 pages
Product not available for purchase
Description
Get Better Results, Save Precious Time, and Focus on What You Really Want to Do
Photoshop puts an astonishing amount of power in your hands. But that power comes at a price: it's easy to get lost in the program's complexity and spend far too much time on repetitive tasks when you could be focusing on creative work. The secret is to do what power users do--let Photoshop's automation features handle the monotonous work and free up your valuable time.
This unrivaled resource from actions guru Al Ward supplies you with over 600 Photoshop actions that you can instantly apply to your work. Tackling basic to complex processes, the actions on the CD allow you to automate routine production tasks, make color and tone enhancements, apply artistic effects, and much more--most of the time with just one click. Al also teaches you how to customize and create new Photoshop actions to suit your precise needs.
Here's just a sample of what Al Ward's Photoshop Productivity Toolkit can do for you:
* Correct color casts to restore natural tones
* Sharpen photos to prepare them for print
* Apply various aging techniques, from sepia toning to advanced wear and tear
* Convert your photos to line art, oil paintings, clip art, and watercolors
* Add impact to images with selective softening and focusing
* Apply warp effects directly to text
* Make stunning black-and-white images
* Add borders, frames, and drop shadows
* Resize images for different uses
* Generate instant contact sheets
* Format art for use on CD labels
* And much, much more!
Introduction.
Chapter 1 What Actions Are Made Of.
Chapter 2 Actions in Action.
Chapter 3 Creating and Using Actions.
Chapter 4 Other Action Tidbits.
Appendix Guide to the Toolkit CD.
Index.
Chapter
Page
Details
Date
Print Run
Combined Errata


Page 28

AFX-CloudsOverWaterCS is found in Typography folder on the CD not Chapter 2 folder on the CD.




---