Alarm Bells in Medicine: Danger Symptoms in Medicine, Surgery and Clinical Specialties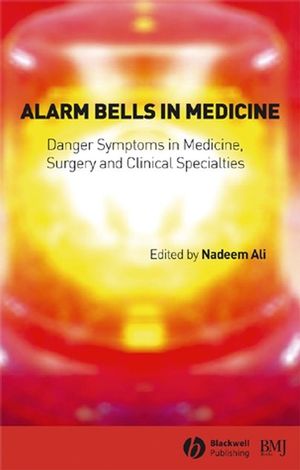 Alarm Bells in Medicine: Danger Symptoms in Medicine, Surgery and Clinical Specialties
ISBN: 978-0-470-75731-4
Apr 2008, BMJ Books
192 pages
Description
What's your worst nightmare as a doctor? Missing a life-threatening condition must be among the biggest fears for health professionals. But sometimes the clue to the diagnosis lies in just a single symptom.

Alarm Bells in Medicine brings you up to speed on recognising the symptoms of serious illnesses. Internationally renowned authors list the most crucial presenting symptoms in their own specialties that should ring the alarm bells for you. They provide clear information on diagnosis and action. Organised under the relevant specialties, the information is quick and easy to find.

Since patients disclose alarm symptoms in all clinical settings, this book is as relevant for consultants as it is for GPs, as useful for junior doctors as it is for medical students.

Special Features of this book:
Answers the express need of doctors to avoid making diagnostic errors
Each chapter is written by a leading expert in the field
Concise and easy to use
List of contributors.
Introduction.
Acknowledgement.
Abbreviations.
Breast surgery.
Cardiology.
Cardiothoracic surgery.
Care of the elderly.
Dermatology.
Endocrinology.
ENT.
Gastroenterology and colorectal surgery.
Genito-urinary medicine.
Gynaecology.
Haematology.
Heptology and hepatobiliary surgery.
HIV medicine.
Immunology.
Metabolic medicine.
Neurology.
Neurosurgery.
Obstetrics.
Oncology.
Ophthalmology.
Oral and maxillofacial surgery.
Orthopaedics.
Paediatrics.
Paediatric surgery.
Plastic surgery.
Psychiatry.
Renal medicine.
Respiratory medicine.
Rheumatology.
Transplantation.
Upper GI surgery.
Urology.
Vascular surgery.
Index
"A must have [that] will surely come in handy, even if it saves just one patients life in the future.... Overall grade/score: 5/5." (
Leicester Scrubs
, January 2010)
"This is a valuable and well-edited collection of potentially serious speciality-specific symptoms. It is highly informative and should alert the reader to the 'alarm bells' that may present in their clinical practice. The book should prove a valuable asset to the library of anyone involved in the practice of medicine including medical students, GPs and hospital doctors." (Annals Royal College of Surgeons of England, 2006)
Addressing the biggest fear faced by all doctors


Answers the express need of doctors to avoid making diagnostic errors

Each chapter is written by a leading expert in the field

Concise and easy to use