Alexander the Great: A New History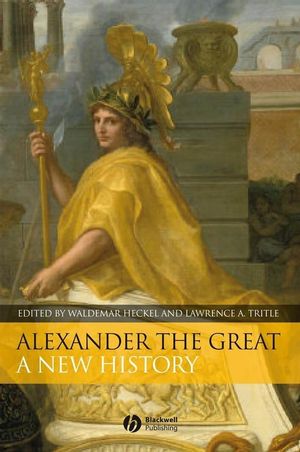 Alexander the Great: A New History
ISBN: 978-1-405-13082-0 March 2009 Wiley-Blackwell 388 Pages
Description
Alexander the Great: A New History combines traditional scholarship with contemporary research to offer an innovative treatment of one of history's most famous figures.
Written by leading experts in the field
Looks at a wide range of diverse topics including Alexander's religious views, his entourage during his campaign East, his sexuality, the influence of his legacy, and his representations in art and cinema
Discusses Alexander's influence, from his impact on his contemporaries to his portrayals in recent Hollywood films
A highly informed and enjoyable resource for students and interested general readers
Buy Both and Save 25%!
Original Price:$114.90
Purchased together:$86.18
save $28.72
Cannot be combined with any other offers.
List of Figures vii
List of Contributors viii
Chronology ix
Preface and Acknowledgments xiv
Abbreviations xv
Journal and Serial Abbreviations xvii
Map xx
Introduction 1
1 The Macedonian Background 7
Michael Zahrnt
2 Alexander's Conquest of Asia 26
Waldemar Heckel
3 The Diadochi, or Successors to Alexander 53
Patrick Wheatley
4 A King and His Army 69
Waldemar Heckel
5 The Court of Alexander the Great as Social System 83
Gregor Weber
6 Alexander and the Greeks 99
The Corinthian League
Elisabetta Poddighe
7 Alexander and the Greeks 121
Artists and Soldiers, Friends and Enemies
Lawrence A. Tritle
8 The Empire of Darius III in Perspective 141
Pierre Briant
9 Alexander and the Persian Empire, between "Decline" and "Renovation" 171
History and Historiography
Pierre Briant
10 Alexander and his "Terrible Mother" 189
Elizabeth D. Carney
11 Alexander's Sex Life 203
Daniel Ogden
12 Heroes, Cults, and Divinity 218
Boris Dreyer
13 Alexander's Image in the Age of the Successors 235
Alexander Meeus
14 Roman Alexanders 251
Epistemology and Identity
Diana Spencer
15 The Construction of a New Ideal 275
The Official Portraiture of Alexander the Great
Catie Mihalopoulos
16 Power, Passion, and Patrons 294

Alexander, Charles Le Brun, and Oliver Stone
E. J. Baynham
Bibliography 311
Index 349
"This book belongs in all university libraries." (
CHOICE,
September 2009)
"This book is ... '[A] highly informed and enjoyable resource for students and interested general readers.' ... H. and T.'s collection of essays does offer is a synthesis of recent scholarship and current trends that will reward both the general and the specialized reader as well as stimulate further discussion." (
The Classical Journal
, November 2009)
"All in all this volume is certainly to be welcomed. At an affordable price it offers coverage of a comprehensive range of topics, with the 'big names' well represented among the contributors." (Scholia Reviews, 2009)


An innovative treatment of one of history's most fascinating and enduring figures

Written by leading experts in the field

Looks at a wide range of diverse topics including Alexander's religious views, his entourage during his campaign East, his sexuality, the influence of his legacy, and his representations in art and cinema

Discusses Alexander's influence, from his impact on his contemporaries to his portrayals in recent Hollywood films

A highly informed and enjoyable resource for students and interested general readers