All You Need is a Good Idea!: How to Create Marketing Messages that Actually Get Results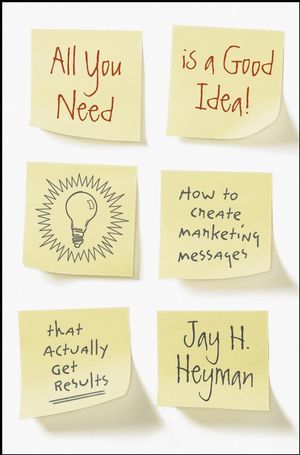 All You Need is a Good Idea!: How to Create Marketing Messages that Actually Get Results
ISBN: 978-0-470-23791-5 May 2008 272 Pages
Description
In All You Need Is a Good Idea, Jay Heyman shows you how to create powerful marketing and advertising ideas that will dramatically increase sales for your business. Perfect for entrepreneurs and small business owners?or operators of any size business, for that matter?this valuable marketing resource will help any business stand out in the marketplace, build bigger market share, gain publicity, and scare the pants off the competition. This book is the perfect guide to creating truly powerful marketing messages.
Buy Both and Save 25%!
Original Price:$49.90
Purchased together:$37.43
save $12.47
Cannot be combined with any other offers.
THE BLANK PAGE xiii
ACKNOWLEDGMENTS xv
PREFACE xix
INTRODUCTION xxiii
1 About the Title 1
Case History: Total Cereal 7
2 The Power of an Idea 9
Case History: Sharp Watches 17
3 Who Do You Think You Are, Anyway? 21
Case History: Porte Advertising 24
4 Where Are You Going? 29
Case History: Ralston Purina's 38
Hero Dog Food
5 Work Very Hard. Once. 43
Case History: Oxydol Detergent 46
6 Where Do You Find A Good Idea? 51
Case History: Prevent Blindness NY 59
Case History: Kangol Caps 61
7 Being Clear Is a Good Idea 63
Case History: Dallas BBQ 69
8 Taking an Idea from Nice to Good 75
Case History: Legion Paper 80
9 Don't Talk So Much 83
Case History: Paradigm Vision 90
Video Conferencing
10 Relevant Shock 95
Case History: Frigidaire Washing Machines 100
Case History: The American Arbitration 102
Association
11 Lost Your Voice? 105
Case History: The Stage Deli 108
12 Use the Whole Carcass 115
Case History: ClearVision Optical 123
13 Trust Your Tummy—But Don't Fall in Love 127
Case History: Vaseline Petroleum Jelly 130
Case History: Anacin 134
14 What's in a Name? 139
Case History: Rapid Park Garages 146
15 Pecked to Death by Ducks 151
Case History: Drambuie Liqueur 154
16 Little Things Can Mean a Lot 161
A (Little) Case History: Host Apparel 172
17 When Is a Good Idea Not a Good Idea? 175
Case History: Your Phufkel 181
18 Don't Be Shy 187
19 Four Words That Will Guarantee Your
Financial Success 197
20 How Did You Do? 207
21 How Did I Do? 219
INDEX 227