Alter-Globalization: Becoming Actors in a Global Age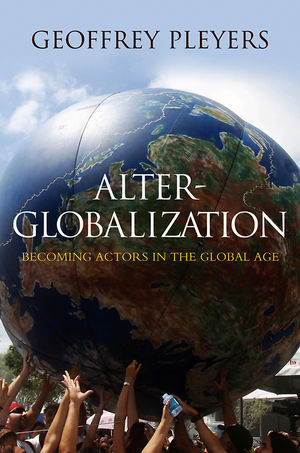 Alter-Globalization: Becoming Actors in a Global Age
ISBN: 978-0-745-65508-6 April 2013 Polity 336 Pages
Download Product Flyer
Download Product Flyer
Download Product Flyer is to download PDF in new tab. This is a dummy description. Download Product Flyer is to download PDF in new tab. This is a dummy description. Download Product Flyer is to download PDF in new tab. This is a dummy description. Download Product Flyer is to download PDF in new tab. This is a dummy description.
Description
Contrary to the common view that globalization undermines social agency, 'alter-globalization activists', that is, those who contest globalization in its neo-liberal form, have developed new ways to become actors in the global age. They propose alternatives to Washington Consensus policies, implement horizontal and participatory organization models and promote a nascent global public space.
Rather than being anti-globalization, these activists have built a truly global movement that has gathered citizens, committed intellectuals, indigenous, farmers, dalits and NGOs against neoliberal policies in street demonstrations and Social Forums all over the world, from Bangalore to Seattle and from Porto Alegre to Nairobi. This book analyses this worldwide movement on the bases of extensive field research conducted since 1999.
Alter-Globalization provides a comprehensive account of these critical global forces and their attempts to answer one of the major challenges of our time: How can citizens and civil society contribute to the building of a fairer, sustainable and more democratic co-existence of human beings in a global world?
Table of contents
Foreword by Alain Touraine xi
Acknowledgements xvii
Part 1 Alter-Globalization – Becoming Actors in the Global Age 1
Introduction 3
From the first uprisings to the global crisis 7
A global movement 10
1 The Will to Become an Actor 16
An actor against neoliberal ideology 16
Social agency in the global age 23
Part 2 The Way of Subjectivity 33
2 The Experience of Another World 35
Resisting through subjectivity 35
Spaces of experience 37
Diversions of experience 54
3 From the Mountains of Chiapas to Urban Neighbourhoods 58
The Zapatistas 58
Barricade social and cultural centre 68
Alter-activist youth 73
From the Zapatistas to alter-activists 88
4 Expressive Movements and Anti-Power 90
A concept of social change 90
A social and subjective engagement 95
Illusions of anti-power and diversions of spaces of experience 96
Facing the political 100
Conclusion 104
Part 3 The Way of Reason 107
5 Expertise for Another World 109
Resisting through reason 109
Spaces of expertise 112
The ambivalence of expertise 123
Conclusion 128
6 Citizens, Experts and Intellectuals 130
Introduction 130
A citizen movement 131
Committed intellectuals 135
Theories of another world and practices of expertise 142
Conclusion 152
7 Reason, Democracy and Counter-Power 154
A movement against neoliberal ideology 154
Rationality at stake 157
Democracy at stake 163
A concept of social change 169
Conclusion 177
Part 4 Confl uence of the Two Paths 179
8 Tensions and Collaborations 181
Common problematics 181
Dichotomization: from tension to opposition 185
Absorption: tension erased by hegemony 191
Combination: tensions and complementarities 193
Conclusion 200
9 The Main Debates 201
Think local and global, act local and global 202
The movement-internal organization 210
Rethinking social change 216
Conclusion 226
10 Towards a Post-Washington Consensus Alter-Globalization 228
Reconfi gurations 228
Towards concrete outcomes 237
Climate justice 251
Conclusion 256
Conclusion 258
Notes 264
Bibliography 280
Index 302
Reviews
"The question of how we can change the world cannot easily be answered, but Geoffrey Pleyers has shown masterfully in this beautifully written and finely researched book that the way we now imagine those answers in changing, in part because of the way the alter-globalization movement has altered our understanding of ourselves as global citizens."
Henrietta L. Moore,
Archives of European Sociology


"What is missing from much of today's media coverage of the Occupy Wall Street movement and related international struggles against corporate globalization and Western imperialism is the question of where these movements have come from and why they've all emerged at this particular time. Geoffrey Pleyer's book makes an important contribution to addressing the prehistory of the Occupy protests, and it can inform those participating in these struggles as well as students and scholars of social movements."
Jackie Smith, Mobilization
"Pleyers reconsructs the 'grammar' of the movement beyond the habitual dichotomies of reform/revolution, action/structure, unity/heterogenity, and instead seeks to value the diversity of the movement through the social meanings shared by the actors that compose the alter-globalization movement in its struggle against neoliberal ideology."
International Sociology

"An impressive book that demonstrates the differences of opinion over what a transnational movement like the alter-globalisation movement shoul do to change the world and what changing the world could look like."
Australian Journal of Political Science
"Provides an excellent overview of the main debates within the movement through a meticulously constructed research programme … [Pleyers'] thorough and balanced account of the development of alter-globalisation offers an immensely valuable resource for both researchers and activists."
Capital & Class
"Now that it looks as if neo-liberalism has run its course, the resulting cracks and fissures give breathing space to alternative movements and hybrid experiments. Pleyers' book opens up some vistas of these developments in the middle of a serious crisis, and does it from the ground up."
Contemporary Sociology


"The kind of book that students of the alter-globalisation movement have been waiting for years for … An indispensable read for anyone - students, academics, activists or politicians - who is looking for an elaborate and sophisticated discussion of some of the most crucial political issues of our time."
Journal of Democratic Socialism
"Utterly convincing and theoretically robust ... This kind of scholarship is what the alter-globalisation movement and indeed the world deserve."
Giuseppecaruso's Weblog
"This important book is the first scholarly account of the alter-globalisation movement. This highly original analysis of the way the movement is constructed around the tension between its two logics - subjective experience and expertise based on reason - helps us to understand not only the movement itself but also the role that the movement plays in inventing global citizenship."
Mary Kaldor, London School of Economics
"Pleyers has traveled the world to offer readers the most sweeping look yet at this crucial global movement, including how it has changed in the face of the recent crisis of the very capitalism it criticizes. By showing us a movement grappling continuously with the Pyramid Dilemma over top-down versus bottom-up approaches, this book helps us think about the most basic issues of democracy and social change."
James M. Jasper, City University of New York
"An outstanding example of contemporary sociological research that rises to the immense demands of a truly global ethnography. Pleyers' book is bound to become the definitive account by a contemporary of the alter-globalization movement. Because of its assured scholarship, easy familiarity with theoretical arguments and intimate experience of the social movement it describes this is going to be one of those rare research reports that immediately becomes a student required text and eventual classic."
Martin Albrow, London School of Economics, author of The Global Age
"Well-documented and relying on the most in-depth analyses. This book presents a movement both truly global and adapted to the economic context of each country and region. The main contribution of Geoffrey Pleyers, and what makes this book an indispensable tool, is that he clearly exposes the mixed strengths and weaknesses of a movement which was, and remains, a grassroots movement in which activists from poor countries occupy a place observed in no other movement."
Alain Touraine, Ecole des Hautes Etudes en Sciences Sociales, Prince of the Asturias Award 2010
"This masterpiece will be the main reference for those who want to understand how the alter-globalization movement shapes today's world, how it modifies our perception of action, but also of democracy, and how this new actor articulates local and personal meanings with general concerns for the future of humanity. This study enables us to discover with precision the short, but real history, the aims, the functioning, the internal tensions, the hopes and the difficulties of the first real global movement."
Michel Wieviorka, President of the International Sociological Association 2006-2010, and Director of the Maison des Sciences de l'Homme, Paris
"The distinction between the way of subjectivity and the way reason that Geoffrey Pleyers proposes in his book clarifies the dynamics and some tensions that we experience in groups and assemblies of the 'Indignados' in Barcelona. It is a conceptual tool that has been of great help me in group facilitation and positive management of conflicts, both online and in assemblies as it allows overpassing tensions among positions that seem irreconcilable and developing an empathy based on mutual understanding."
David Leal Garcia, Indignado (15M) in Barcelona
Features
This book is based on 10 years of research and is widely regarded as an outstanding contribution to sociology.
Pleyers examines the question of how citizens and civil society can contribute to the building of a fairer, sustainable and more democratic co-existence of human beings in a global world.
Alain Touraine, a key figure in the social sciences, has provided a Preface.
This should appeal to all students of Sociology and the Social Sciences.