Alternative and Activist New Media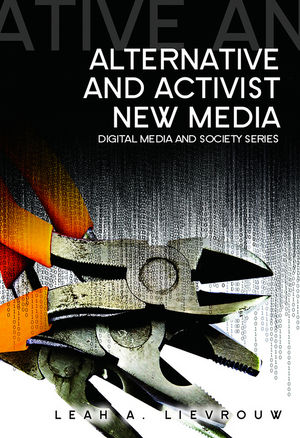 Alternative and Activist New Media
ISBN: 978-0-745-64183-6 February 2011 Polity 200 Pages
Description
Alternative and Activist New Media provides a rich and accessible overview of the ways in which activists, artists, and citizen groups around the world use new media and information technologies to gain visibility and voice, present alternative or marginal views, share their own DIY information systems and content, and otherwise resist, talk back to, or confront dominant media culture. Today, a lively and contentious cycle of capture, cooptation, and subversion of information, content, and system design marks the relationship between the mainstream 'center' and the interactive, participatory 'edges' of media culture.

Five principal forms of alternative and activist new media projects are introduced, including the characteristics that make them different from more conventional media forms and content. The book traces the historical roots of these projects in alternative media, social movements, and activist art, including analyses of key case studies and links to relevant electronic resources. Alternative and Activist New Media will be a useful addition to any course on new media and society, and essential for readers interested in new media activism.
List of Tables and Figures vi
Acknowledgements viii
1 Introduction 1
2 The Roots of Alternative and Activist New Media 28
3 Monkeywrenching the Media Machine: Culture Jamming 72
4 Hacking the New Out of the Old: Alternative Computing 98
5 Breaking Through the Information Blockade: Participatory Journalism and Indymedia 119
6 Getting People on the "Street": Mediated Mobilization 149
7 Challenging the Experts: Commons Knowledge 177
8 New Media, Mediation 214
Notes 236
References 248
Index 279
"Providing theory and practical examples, the book will be useful not only to media scholars but also to those interested in politics and social change."
Choice

"An excellent introduction to innovative, often non-commercial uses of new information and communication technologies. This is the kind of text I longed to have when I began teaching courses in new media activism, and am so glad to have it now."
New Formations

"I find this book to be quite the best on the subject ... A great textbook. I wish I'd written it!"
Times Higher Education, "what are you reading?"

"Defining new media has always been tricky. Here, Leah Lievrouw gives and clear and thorough definition of new media based on three components: the device/artifact which enables the ability to communicate, the communication activity/practice, and the social arrangements and organizational forms created around the artifact and the practice."
Neural
"Leah Lievrouw's Alternative and Activist New Media provides the best text on new media and their political uses that I have read. Armed with an impressive arsenal of media and communication theory, Lievrouw offers as well detailed histories and analyses of a wealth of new media from the Internet to Twitter, presenting how activist groups and individuals have deployed them. The book should be extremely valuable to students and scholars alike, providing an exciting entry into a new world of culture and politics."
Douglas Kellner, UCLA; Author of Media Culture and Media Spectacle and the Crisis of Democracy

"Leah Lievrouw's Alternative and Activist New Media is a most welcome addition to the literature on digital media. The book treats a relatively overlooked and underappreciated aspect of new media: the politics of resistance to dominant media appropriations of computing. And Lievrouw's informed and intelligent consideration of the topic constitutes an excellent and accessible introduction. Alternative and Activist New Media should be warmly welcomed and will no doubt become the center of debate on the politics of digital media for some time."
Mark Poster, University of California, Irvine

"Leah Lievrouw uses concrete cases to describe how activists are using new media in jamming popular culture, cutting through institutional IT systems, scooping mainstream journalists, out maneuvering the political establishment, and outperforming the experts. Any student of communication and media studies will find this book an essential and refreshing guide for moving from old mass media perspectives and into the new media age."
William H. Dutton, Oxford Internet Institute, University of Oxford
An overview of the ways in which different groups use new media to resist or confront dominant media culture.

Takes in some of the trendiest areas of digital media studies, such as participatory culture and interactivity, and open source design.

Takes a bigger picture view and shows the historical roots of these trends in alternative media, social movements and activist art.

Written by an international authority in new media studies.

Will be supported by the digital media series website and blog.