Aluminum Alloys for Transportation, Packaging, Aerospace, and Other Applications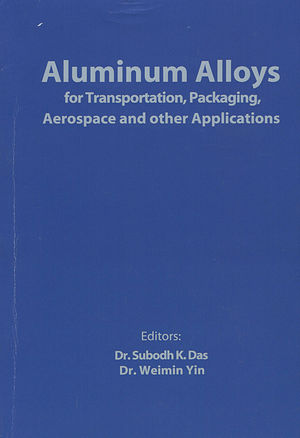 Aluminum Alloys for Transportation, Packaging, Aerospace, and Other Applications
ISBN: 978-0-873-39662-2
May 2007
234 pages
Description
The focus of this book is the study of the physical and mechanical metallurgy of aluminum alloys produced by processing methods. It addresses progress in research, development, testing and application of aluminum sheet, plate, extrusions, forgings, and other products in end uses. Those applications include transportation, such as automotive, aerospace and marine, packaging and other key areas.

A collection of papers from the 2007 TMS Annual Meeting & Exhibition held in Orlando, Florida, February 25 -- March 1, 2007.
Preface.
Editors.
Aluminum Applications.
Characterization of Surface Defects Encountered in Twin Roll Cast Aluminum Strips (Murat Dundar, and Ozgul Keles).
Life-cycle Cost Analysis: Aluminum versus Steel in Passenger Cars (Subodh Das, Adrian C Ungureanu, and Ibrahim S Jawahir).
Fabrication of Carbon Fibers Reinforced Aluminum Foam(Zhuokun Cao, Guangchun Yao, and Yihan Liu).
Fabrication of Ultrahigh Strength Aluminum Alloy by the Route Consisting of Solid Solution, Large Deformation and Ageing (Xiaojing Xu, and Xiaonong Cheng).
Improvement of Quality of Trimmed Surface of Aluminum Panels (Sergey Golovashchenko).
Failure Analysis of Some Aluminium Alloys Used to Produce Aluminium Containers Especially Three Compartment and Airline Trays (Nick Singleton, Ebriham Ali Alaradi, Mohamed Essa, and Nicasio L. Velante).
Aluminum Products for Bridges and Bridge Decks (Subodh Das, and J. Gilbert Kaufman).
Study on Evolution Behaviors of Bubble in Aluminum Melt (Hongjie Luo, Guangchun Yao, Y.H. Liu, and X.M. Zhang).
Sound Absorption Property ofClosed-Cell Aluminum Foam (Haijun Yu, Guangchun Yao, Yihan Liu, Hongjie Luo, and Guojun Yang).
Alloy Development.
Development of Superplasticity in an Al-Mg-Sc Alloy(Jaya V. Prasad, and Subramshu Bhattacharya).
Production of AA6061 Billets for Thixoforging (Yücel Birol).
Application of a New Constitutive Model for the FE Simulation of Local Hot Forming of Age Hardening AluminiumAlloys (Asbjørn Mo, Sylvain Gouttebroze, and Hallvard G. Fjær).
The Influence of Particle Size to the Preparation of Foam Aluminum by Powder Metallurgy Method (Zhiqiang Guo, Guangchun Yao, and Yihan Liu).
Friction Stir Welding of Aluminum Alloys 6061-T6 and 6101-T6 (Carter Hamilton, and Stanislaw Dymek).
Alloy Processing.
Application of Time-Temperature-Stress Parameters to High Temperature Performance of Aluminum Alloys (J. Gilbert Kaufman, Zhengdong Long, and Shridas Ningileri).
Study of Rolling Behavior of Closed-Cell Aluminum Foam Material (Guoyin Zu, Guangchun Yao, and Hongbin Li).
Dual Refinement of Primary and Eutectic Silicon in Hypereutectic Al-Si Alloys (Mohammad Shamsuzzoha, and Frank R. Juretzko).
Compositionally and Structurally Graded Layers Prepared by Plasma-Based Ion Implantation on 2024 AluminumAlloy (Jiaxuan Liao, Zhong Tian, Jiang Xu, and Long Jin).
A Study of Stability of Foam Aluminum by Powder Metallurgy Method (Zhiqiang Guo, Guangchun Yao, and Yihan Liu).
Hydrogen in Aluminum (Paul Rozenak, B. Ladna, and H.K. Birnbaum).
Alloy Characterization.
Microstructural Characteristics during Hot Forging of Al-Mg-Si Alloy (Yong Nam Kwon, Y.-S. Lee, and J.-H. Lee).
Alloy Mechanical Behavior.
Characterization of the Evolution of the Properties of Aluminium Alloys (Christophe Thiebaut, Laurence Durut, Thierry Vauzelle, Jean François Mariage, and Serge Contreras).
Effect of Aging Treatment on the Mechanical Properties of Thixoextruded 7003 Al Wrought Alloy (Young-Ok Yoon, Hoon Cho, Shae K. Kim, and Hyung-Ho Jo).
Research on Electromagnetic Shielding Property of Aluminum Foam (Haijun Yu, Guangchun Yao, Yihan Liu, and Guangjun Yang).
Author Index.
Subject Index.