Always a Winner: Finding Your Competitive Advantage in an Up and Down Economy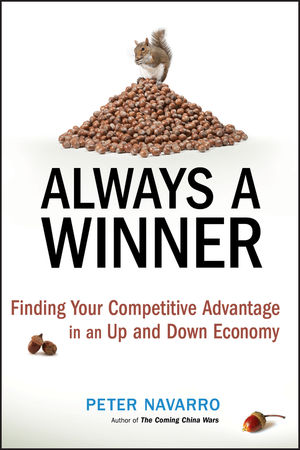 Always a Winner: Finding Your Competitive Advantage in an Up and Down Economy
ISBN: 978-0-470-53172-3 August 2009 240 Pages
Description
"In much the same way that Good to Great uncovered hitherto hidden secrets of highly successful companies, Navarro's Always a Winner uses extensive research to reveal the overriding importance of learning how to forecast and strategically manage the business cycle for competitive advantage. In doing so, this book provocatively explores a critical aspect of successful management virtually untapped by the existing strategy literature." —Dan DiMicco, Chairman and Chief Executive Officer, Nucor Steel

" Always a Winner is an important and timely guide to thriving in challenging economic times. Prof. Navarro deftly bridges the academic and business communities, showing corporate leaders how to read economic tea-leaves to anticipate business cycles. His "Master Cyclist" credo offers many practical tips and real-world case studies for steering companies through turbulent economic seas." —Mark Greene, Ph.D, Chief Executive Officer, FICO (Fair Isaac Corp.)

"Navarro's Always a Winner shows why forecasting the economy with a ruler can be lethal for corporate executives and money managers. He demonstrates how to skillfully anticipate the ups and downs of the economy and successfully navigate through them. The current economic crisis clearly demonstrates why this book is so important to have on your bookshelf." —Mark Zandi, Chief Economist and Cofounder of Moody's Economy.com

"Always a Winner is required reading for every entrepreneur, money manager, and independent investor hoping to outperform the market and retire one day." —Mark T. Brookshire, Founder of StockTrak.com and WallStreetSurvivor.com

" Navarro's wealth of real world examples will show you how to make both economic recessions and recoveries invaluable allies in executing competitive corporate strategies. A must read!" —Lakshman Achuthan, Managing Director, Economic Cycle Research Institute

Why recessions are far more dangerous than any 10 competitors

Most companies make a lot of money during economic expansions-and lose a lot of money during recessions. That is the way it has always been. That is the way it need not always be.

This book will show you how to "always be a winner" over the course of the entire business cycle-not just when economic times are good. To do this job, this book will arm you with all the strategies and tactics and forecasting tools you will need to profitably manage your organization through the business cycle seasons-from the best of boom times to the worst of recessionary times.

In this book, you will learn to
Forecast movements and key recessionary turning points in the business cycle
Implement a set of powerful "battle-tested" strategies over the course of the business cycle
Rebuild your organization with a strategic business cycle orientation and thereby make it much more recession-resistant and resilient over the longer term
The forecasting tools and management strategies revealed in this book have been developed over the last five years by the author-the world's leading expert on managing the business cycle for competitive advantage.
By learning to strategically manage the business cycle, your organization will be able to create a powerful competitive and sustainable advantage over its rivals and thereby find the grail sought by every executive team in the world-superior financial performance.
In this way, Always a Winner provides you with the in-depth insight and practical advice you need to help your company survive and thrive in the increasingly risky conditions of the 21st century.
About the Author xiii
Preface xvii
A Big-Picture View of the Always a Winner Organization 1
Chapter 1 Why Recessions Are More Dangerous than Any 10 Competitors 3
Chapter 2 What Good to Great and Always a Winner Organizations Have in Common 5
Chapter 3 What Are the Three Steps to Becoming an Always a Winner Organization? 13
Chapter 4 How to Strategically Manage Through the Business Cycle Seasons 21
Step I: Becoming Your Own Economic Forecaster 33
Chapter 5 How (and Why) the Business Cycle Cycles 35
Chapter 6 How to Forecast the Business Cycle in FourEasy Pieces 43
Chapter 7 Why the GDP Equation Is Your Most Important Forecasting Tool 47
Chapter 8 Why Tracking the Consumer Is the Ultimate Confidence Game 55
Chapter 9 Why Taking the Pulse of Business Investment Is as Simple as ISM 61
Chapter 10 How Falling Exports Can Flatten an Economy in a Flat World 67
Chapter 11 Why Uncle Sam Is the Spender of Last Resort 75
Chapter 12 How Do I Fear Thee, Inflation? Let Me Count the Ways 83
Chapter 13 Why the Bond Market Is Not a Casino 89
Chapter 14 Why Forecasting a Recession Is No Bull (Market) 95
Chapter 15 How the Corporate Earnings Calendar Literally "Guides" Your Strategy 101
Step II: Always a Winner Strategies through the Business Cycle Seasons 107
Chapter 16 How to Recession-Proof Your Supply Chain 109
Chapter 17 Why Cherry Picking the Talent Pool During Recessions Is Your Quality Key 117
Chapter 18 Why Countercyclical Advertising Is the Best Way to Build Brand and Market Share 125
Chapter 19 Why Companies Often Price Their Products and Manage Credit Exactly Wrong 133
Chapter 20 How To Not Get Run Over by the Capital Expenditures Bandwagon 143
Chapter 21 Why You Should Buy Low and Sell High over the Stock Market Cycle 151
Chapter 22 How to Minimize Your Capital Financing Costs over the Interest Rate Cycle 161
Step III: Building the Always a Winner Organization 169
Chapter 23 Why Always a Winner Organizations Always Begin with a Strong Business Cycle
Management Orientation 171
Chapter 24 How Every Executive Team Can Boost Its Economic and Financial Market Literacy 177
Chapter 25 Why a Facilitative Structure Must Follow Your Business Cycle Management Strategy 185
Chapter 26 Why a Supportive Organizational Culture Is Essential to Always Being a Winner 191
Chapter 27 How to Protect Your 401(k) in an Up-and-Down Stock Market 195
Concluding Thoughts 203
Notes 205
Acknowledgements 211
Index 217