Amazon.com For Dummies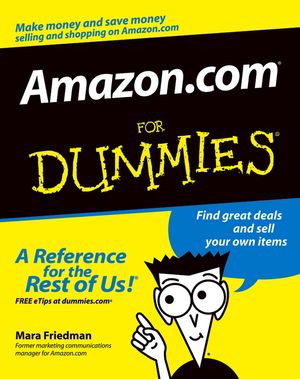 Amazon.com For Dummies
ISBN: 978-0-764-56866-4 January 2003 380 Pages
Download Product Flyer
Download Product Flyer
Download Product Flyer is to download PDF in new tab. This is a dummy description. Download Product Flyer is to download PDF in new tab. This is a dummy description. Download Product Flyer is to download PDF in new tab. This is a dummy description. Download Product Flyer is to download PDF in new tab. This is a dummy description.
Description
If you've surfed the Web more than once, you've probably visited Amazon.com. Originally you may have gone there searching for books, but Amazon.com is so much more than a bookstore. The author of
Amazon.com For Dummies®,
who has been involved with the site from its beginnings, describes it as a shopping mall/home improvement store/bazaar/travel agency/newsstand/car lot, but most importantly, a community of buyers and sellers—people like you.
Countless opportunities exist for those who join this community, and Amazon.com For Dummies® gives you a smorgasbord sampling of what they are and how to take advantage of every one. For example, you can
Set up an account and buy things
Bid on an auction
Sell your items
Personalize your shopping experience
Open your own online "store"
Join the Amazon.com community
Written by Mara Friedman, who has held several positions with Amazon.com including marketing communications manager, Amazon.com For Dummies® takes you from your first venture into the Amazon all the way to making money from your Amazon.com experience. Discover how to
Find your way around the marketplace and scout out the best deals
Get local movie showtimes, view restaurant menus, chat with other shoppers, send free e-cards, or sign up for a free reminder service
Track orders and manage your account
Browse specialty shops and check out international merchandise
Take advantage of reviews from other shoppers
Set up and use wish lists—for yourself and your friends
Create your own online Zshop, set the right prices, and take photos that help sell your items
Take advantage of the Amazon.com Advantage or become an Associate
Whether you're a complete novice who'd like a guide to help you with your first online purchases, or a longtime Amazon.com shopper who wants to become an online entrepreneur, Amazon.com For Dummies® has what you need. Use it today to get started, and tomorrow to help you manage your own successful online business.
Table of contents
Introduction.
Part I: Testing the Waters: Finding Your Way Around the Store.
Chapter 1: Amazon.com 101.
Chapter 2: The Main Stops on the Shopping Circuit.
Chapter 3: You Are the Master of Your Account.
Chapter 4: Heeeeeeeeeelp!
Part II: You Want It? They Got It: Shopping and Buying at Amazon.com.
Chapter 5: A Closer Look at the Stores.
Chapter 6: Services at Amazon.com.
Chapter 7: The Strange, the Special, and the Super Cheap.
Chapter 8: Get What You Want: Find It and Suss It Out.
Chapter 9: Window-Shopping on the Web.
Chapter 10: Clicking Your Way to Purchase Paradise.
Part III: The More the Merrier: The Amazon.com Community.
Chapter 11: It's All About You! Cool Stuff That Happens Automatically.
Chapter 12: Putting Your Two Cents In: Reviews, Lists, & Cool Features.
Chapter 13: Giving (and Getting) Good Gifts.
Part IV: Making Money at Amazon.com.
Chapter 14: The Basics of Using Amazon.com to Build Bucks.
Chapter 15: The Buying/Selling Circle: Amazon.com Marketplace.
Chapter 16: Where on Earth Did You Find That? Auctions and zShops.
Chapter 17: Leveling the Playing Field: Amazon.com Advantage.
Chapter 18: Cash by Association: Amazon Associates.
Part V: The Part of Tens.
Chapter 19: Ten E-Mails You Might Get from Amazon.com.
Chapter 20: Ten Ways to Get Great Deals.
Chapter 21: The Ten Strangest Items for Sale.
Appendix: The Esoteric Amazon: Honor System and Amazon Anywhere.
Index.
Reviews
"Everything is presented in a step-by-step manner, so anyone can master the world of Amazon." (Practical Web Projects, March 2004)