America's Best: IndustryWeek's Guide to World-Class Manufacturing Plants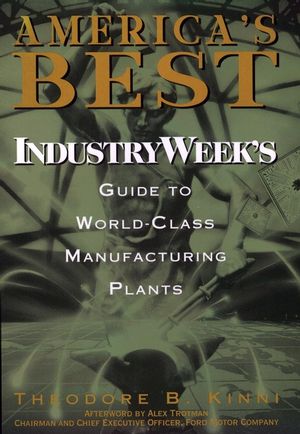 America's Best: IndustryWeek's Guide to World-Class Manufacturing Plants
ISBN: 978-0-471-16002-1 October 1996 429 Pages
Download Product Flyer
Download Product Flyer
Download Product Flyer is to download PDF in new tab. This is a dummy description. Download Product Flyer is to download PDF in new tab. This is a dummy description. Download Product Flyer is to download PDF in new tab. This is a dummy description. Download Product Flyer is to download PDF in new tab. This is a dummy description.
Description
In 1990, IndustryWeek magazine established a prestigious new competition, the America's Best Plants Award, designed to recognize and honor the top manufacturing operations in the nation. To date, sixty-two companies—from such well-known names as Hewlett-Packard, Sony Electronics, Steelcase, and Xerox to smaller companies such as Zytec, John Crane Belfab, and Lord Corporation—have earned the illustrious designation of being one of America's Best Plants.
Now these award-winning plants are profiled in America's Best, a unique reference that takes an in-depth look at leading-edge manufacturing practices. Detailing the individual components of world-class manufacturing, while providing personal experience from the field, America's Best offers practical guidelines that will help managers make strategic decisions regarding their own organizations.
The book begins with the nine essential components of world-class manufacturing, their individual make-up, and how they interact with each other. These components—customer focus, quality, agility, employee involvement, strong supplier relations, technology, new product development, green manufacturing, community involvement—come together to create the basis of manufacturing excellence and will serve as a road map for improving your organization, your products, and your people.
Profiles of each of the 62 Best Plant winners celebrate individual excellence in the field. Highlighting these profiles are on-site visit reports by IndustryWeek editors; detailed coverage of the many unique programs, tools, and techniques currently in use at each plant; and a listing of contact information for individual plants. Also included is a complete set of the winners' statistical measurements for use in benchmarking your own organization, as well as an assessment survey to help you determine how your plant measures up against the best.
Filled with helpful data, advice, "lessons," and firsthand stories from Best Plant leaders and employees, America's Best will be essential reading for managers in executive suites to the shop floor who are charged with the success of their manufacturing organization.
"A clear and exciting depiction of the dramatic changes taking place in manufacturing and the innovative approaches used to sustain world-class excellence." — Jerry J. Jasinowski President, National Association of Manufacturers
"Highly readable and packed with relevant examples of what makes the best, best." — Carla O'Dell, PhD President, American Productivity & Quality Center
"A rousing standing ovation for Ted Kinni and the editors of IndustryWeek. America's Best is a benchmark book, and Kinni and colleagues have pulled off an Olympian feat. . . . If you've set a course for excellence, you must read this book." — Jim Kouzes, coauthor The Leadership Challenge and Credibility, Chairman and CEO The Tom Peters Group/Learning Systems
Advanced Filtration Systems, Inc.
Air Products & Chemicals, Inc.
Allen-Bradley Company
Baxter Healthcare Corp.
Chesebrough-Pond's USA Co.
Cincinnati Milacron, Inc.
Coherent, Inc.
Continental General Tire, Inc.
Copeland Corporation
Corning, Inc.
Dana Corporation
Digital Equipment Corp.
Edy's Grand Ice Cream
Engelhard Corporation
Exxon Chemical Co.
Fisher-Rosemount, Inc.
Ford Electronics & Refrigeration Corp.
Ford Motor Co.
The Foxboro Company
GE Fanuc Automation NA, Inc.
General Electric
General Motors
General Motors Corp., Cadillac
Gilbarco, Inc.
Hewlett-Packard Company
Honeywell, Inc.
IBM Corporation
John Crane Belfab
Johnson & Johnson Medical, Inc.
Kennametal, Inc.
Lockheed Martin Corp.
Lord Corporation
Marlow Industries, Inc.
MEMC Electronic Materials
Mettler-Toledo, Inc.
Milwaukee Electric Tool
Motorola, Inc.
New United Motor Mfg., Inc.
Nippondenso Mfg., USA, Inc.
Northrop Grumman Corp.
Pella Corporation
Rockwell International
Siemens Automotive
Sony Electronics, Inc.
SPX Corporation
Steelcase, Inc.
Stone Construction Equipment, Inc.
Super Sack Manufacturing
Symbiosis Corporation
Tennessee Eastman Company
Texas Instruments, Inc.
The Timken Company
TRW Vehicle Safety Systems, Inc.
Unisys Corporation
Varian Associates, Inc.
Wilson Sporting Goods Company
XEL Communications, Inc.
Xerox Corporation
Zytec Corporation
Table of contents
MANUFACTURING EXCELLENCE: THE LESSONS OF AMERICA'S BEST.

Becoming a Best Plant.

Customer Focus.

Quality.

Agility.

Employee Involvement.

Supply Management.

Technology.

Product Development.

Environmental Responsibility and Employee Safety.

Corporate Citizenship.

AMERICA'S BEST PLANTS.

Individual Plant Profiles.

Statistical Profile.

Assessment Survey.

Afterword.

IndustryWeek Editorial Staff Contacts.

Index.