America's Bubble Economy: Profit When It Pops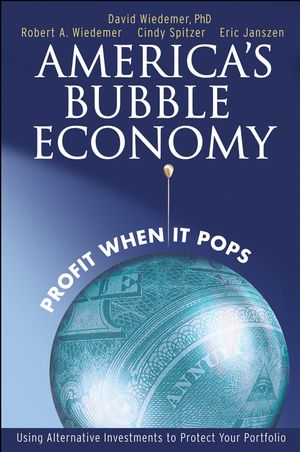 America's Bubble Economy: Profit When It Pops
ISBN: 978-0-471-75367-4 October 2006 288 Pages
Description
America's Bubble Economy is the first book to focus on several simultaneous financial bubbles that are interacting to temporarily boost—and ultimately threaten—the United States and world economies. Filled with expert analysis and straight talk, this book will show you how to turn the coming economic transformation into a once-in-a-lifetime wealth-building opportunity.
ACKNOWLEDGMENTS vii
INTRODUCTION xi
Part One America's Bubble Economy
Chapter 1: Executive Summary 3
Chapter 2: Bubble Blind 37
Chapter 3: Bubblequake 67
Chapter 4: What!? You Mean We're Not King of the World!? 105
Part Two Profit When It Pops with Alternative Investments
Chapter 5: Cashing in on Chaos 133
Chapter 6: Gold for People Who Hate Gold by Eric Janszen 181
Chapter 7: Survive and Thrive 199
Part Three The Really Big "Big Picture"
Chapter 8: The View from 30,000 Feet 217
INDEX 255
WORRIED ABOUT THE HOUSING BUBBLE? You should be, but don't let it monopolize your
agita
. There are four other bubbles also deserving of attention, according to
America's Bubble Economy
: a stock-market bubble, a foreigner-supported-dollar bubble, a consumer-debt bubble and a U.S.-debt bubble. When the five collide in a ""bubblequake,"" the book's authors predict, the air will rush out of the pumped-up U.S. economy, deflating the average American's assets and standard of living.
But not to panic
.
America's Bubble Economy
has a subtitle:
Profit When It Pops
. Eric Janszen, one of its four authors, suggests keeping 10%-15% of your assets in gold, which he sees rising ""to a peak price of $2,500 to $3,000'' an ounce. Janszen
et al
. also recommend eurobonds and euro-denominated exchange-traded funds, because most of Europe isn't as indebted as the U.S. and its main currency should outperform the dollar.
A former venture capitalist and founder of the financial Website iTulip, Janszen says the U.S. is repeating errors of the Nixon era, including massive government deficits, under-funded entitlements and an unpopular war the government can't fund with higher taxes or special bonds. Throw in today's growing global demand for commodities, and ""... all roads still lead to inflation, whether due to energy costs, unfunded deficits or dollar-currency risks,"" he says.
Janszen, who was rightly skeptical of the Internet craze early-on, tells
Barron's
that the current stock-market bubble is ""a reflection of monetary inflation"" rather than future earnings. A more normal trendline, he says, would put the Dow at about half its present level, or 6,000. Now, that's something to worry about.
—Susan Witty
(
Barron's
, November 13, 2006)
Chosen by Kiplinger's as one of the 30 Best Business Books of 2007
Paul Farrell, Senior Columnist at Dow Jones MarketWatch said on February 12, 2008, ""In short, America's Bubble Economy's prediction, though ignored, was accurate.""