America's Health Care Crisis Solved: Money-Saving Solutions, Coverage for Everyone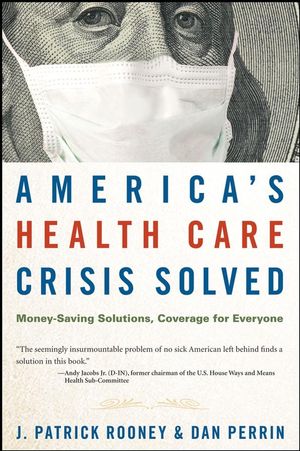 America's Health Care Crisis Solved: Money-Saving Solutions, Coverage for Everyone
ISBN: 978-0-470-27572-6
May 2008
272 pages
Description
America's Health Care Crisis Solved highlights the major pitfalls of our current health care system and shows why, without changes, health care costs will soon demolish the American economy as well as the opportunity to receive quality care. However, contrary to the increasingly popular idea of a government health plan, the alternative presented by authors J. Patrick Rooney and Dan Perrin brings the self-interest of you, the American consumer, into the equation.
Buy Both and Save 25%!
Original Price:$57.90
Purchased together:$43.43
save $14.47
Cannot be combined with any other offers.
Preface xiii
Introduction xvii
PART 1 REALITIES
Chapter 1 No Money, No Health Care 3
Who Can Afford to Get Sick? 3
A Helicopter View of Health Care Financing 4
The Good Bad News 5
No More Business as Usual 6
Chapter 2 Why the Money's Running Out 9
No Room at the Inn 9
Standard Operating Procedure 10
The Motive Is Profit 11
The Problem Is Greed 12
On the Front Lines with Nora Johnson 13
Chapter 3 A New Scarlet Letter 21
A Lady in Red 21
Who Are the Uninsured? 22
The Danger of Secondhand Smoke 23
Injustice for All 23
Chapter 4 Why Nationalized Health Care Is No Cure-All 27
The HMO Idea 27
An Idea Rejected 28
Phoenix Rising? 28
HillaryCare II 29
O Canada 33
The Cost of Inefficiency 35
God Save the Queen 36
Look No Further 37
New York, New York 37
Florida, Here We Come 38
The Evidence Speaks 39
PART II STRATEGIES
Chapter 5 Fair Care 43
Three Keys to Make Fair Care Work 45
Congressional Action 47
Two Crucial Points on Fair Care 48
Fair Care Effect on Employers 48
Fair Care Effect on Employees 48
The State of the Union Proposal 48
Chapter 6 Give Seniors What They Want (and Save Money Doing It): An Innovative Approach to Medicare 51
Part D of Medicare: Prescription Drugs for Seniors 52
The Future of Medicare 53
Defining the Terms 53
Drug Money 54
An Unfunded Mandate 55
A Bureaucratic Snafu 55
Cost Comparison 56
Saving the U.S. Treasury Money 59
How Much Could Our Country Save? 60
Give Seniors What They Want 61
Too Good to Be True? 61
How Much Money in Each Senior's Hands? 62
Chapter 7 Give Control to Consumers through HSAs 65
Back to the Future 65
One Experience 66
HSAs Today 67
A Quick Overview 67
Health Care Freedom 69
A Dollar-for-Dollar Comparison 70
The Best Interest of the Consumer 70
An IRA on Steroids 72
The Truth Be Told 73
A Word about Family Deductibles 76
Republicans versus Democrats 76
A Legitimate HSA Weakness 79
Three Mistakes Employers Make 79
A Response to Mr. Rangel 81
What Does the Evidence Say? 82
A Side Note 83
What Congress Still Needs to Do 83
Chapter 8 Establish Fair Medical Prices 87
Which Price Tag? 87
What's a Reasonable Price? 89
What Can We Conclude? 91
How to Defend Yourself against Hospital Harassment 91
What's a UB-04 or a UB-92? 95
Where to Get the Medicare Information 96
Now You're a Royal Pain 97
Sounds Good, But Does It Work? 98
Do You Need a Lawyer? 99
The Key to Health Care Reform 99
Chapter 9 Make Medical Prices Transparent: An Innovative Approach to Pricing Health Care 101
Between a Rock and a Hard Place 101
Why Not Be Honest? 102
Cost Reporting 102
Truth Detector 103
Do Hospitals Lose Money on the Uninsured? 103
Who's Losing Money? 104
Are We Really Too Dumb to Understand? 104
What Needs to Change 105
Legislation Now Pending 106
Medicare Starts to Move 107
And Not Just the Hospitals 107
Chapter 10 Build Risk Pools: An Innovative Approach to Individual Health Insurance 109
New York State of Mind 109
No Picnic in the Garden State 110
Ferrari Pricing 113
One Way to Cope 114
Compassion versus Common Sense 114
Casting the Net 115
Double Incentive 115
The Problem for Small Businesses 117
A Future Answer for Small Businesses 117
A More Immediate Answer 118
List Bill 118
The Rest of the Story 119
Chapter 11 Build a National Marketplace: An Innovative Approach to Individual Health Insurance 121
Do You eBay? 122
Nothing Matters More 122
Roadblocks to Freedom 123
Health Care Choice Act 124
Not in My Backyard 124
An Idea for the People 125
Let's Get It Done 125
Chapter 12 Make Basic Health Care Cheaper and More Convenient: An Innovative Approach to Health Care Delivery 127
What Is a Quick Care Clinic? 128
The Customer Is King 129
Calling Dr. Nurse 129
"You've Got Care" 130
Chapter 13 Do It Right the First Time: An Innovative Approach to Wellness 131
Dr. Paul Ellwood 131
The Right Goal 132
The Right Kind of Competition 132
It Is Your Health 133
Lose the Gatekeepers 133
Get Well Soon 134
Chapter 14 Wrapping It All Up 135
Appendix A Public Testimony of Dr. Gerard Anderson 137
Appendix B Memorandum of Case Law Precedents Showing Hospitals Can Charge Only Reasonable Prices 151
Appendix C An Example of a Legal Complaint against a Hospital for Unreasonable Charges 155
Appendix D Executive Order: Promoting Quality and Efficient Health Care in Federal Government-Administered or -Sponsored Health Care Programs 169
Appendix E S.173, Medicare Savings Account Legislation Introduced by U.S. Senator Inhofe (R-OK) and U.S. Senator DeMint (R-SC) 173
Appendix F The Common Sense Guide to Health Savings Accounts by Roy Ramthun 179
Notes 227
Index 237
""A welcome addition to the literature. Unlike many books written on health care these days, this one provides concrete assistance to real consumers. Pat Rooney and Dan Perrin should be congratulated for taking us to the next level of patient empowerment.""--Consumers for Health Care Choices