America on Film: Representing Race, Class, Gender, and Sexuality at the Movies, 2nd Edition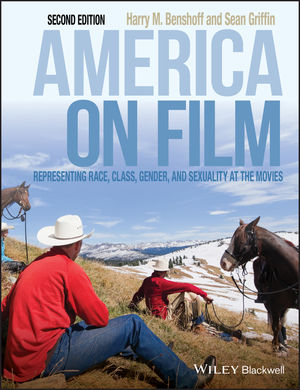 America on Film: Representing Race, Class, Gender, and Sexuality at the Movies, 2nd Edition
ISBN: 978-1-444-35759-2 August 2011 Wiley-Blackwell 472 Pages
Download Product Flyer
Download Product Flyer
Download Product Flyer is to download PDF in new tab. This is a dummy description. Download Product Flyer is to download PDF in new tab. This is a dummy description. Download Product Flyer is to download PDF in new tab. This is a dummy description. Download Product Flyer is to download PDF in new tab. This is a dummy description.
Description
America on Film: Representing Race, Class, Gender, and Sexuality in the Movies, 2nd Edition
 is a lively introduction to issues of diversity as represented within the American cinema.
Provides a comprehensive overview of the industrial, socio-cultural, and aesthetic factors that contribute to cinematic representations of race, class, gender, and sexuality
Includes over 100 illustrations, glossary of key terms, questions for discussion, and lists for further reading/viewing
Includes new case studies of a number of films, including Crash, Brokeback Mountain, and Quinceañera
Table of contents
Acknowledgments xi
How to Use This Book xvi
Part I Culture and American Film 1
1 Introduction to the Study of Film Form and Representation 3
Film Form 3
American Ideologies: Discrimination and Resistance 6
Culture and Cultural Studies 12
Case Study: The Lion King (1994) 17
Questions for Discussion 20
Further Reading 20
2 The Structure and History of Hollywood Filmmaking 21
Hollywood vs. Independent Film 21
The Style of Hollywood Cinema 23
The Business of Hollywood 28
The History of Hollywood: The Movies Begin 30
The Classical Hollywood Cinema 34
World War II and Postwar Film 37
"New" Hollywood and the Blockbuster Mentality 40
Questions for Discussion 43
Further Reading 43
Further Screening 44
Part II Race and Ethnicity and American Film 45
Introduction to Part II: What is Race?
3 The Concept of Whiteness and American Film 51
Seeing White 52
Bleaching the Green: The Irish in American Cinema 56
Looking for Respect: Italians in American Cinema 60
A Special Case: Jews and Hollywood 65
Case Study: The Jazz Singer (1927) 68
Veiled and Reviled: Arabs on Film in America 70
Conclusion: Whiteness and American Film Today 76
Questions for Discussion 77
Further Reading 77
Further Screening 77
4 African Americans and American Film 78
African Americans in Early Film 78
Blacks in Classical Hollywood Cinema 82
World War II and the Postwar Social Problem Film 85
The Rise and Fall of Blaxploitation Filmmaking 88
Box: Blacks on TV 90
Hollywood in the 1980s and the Arrival of Spike Lee 90
Black Independent vs. "Neo-Blaxploitation" Filmmaking 93
New Images for a New Century – Or Not? 95
Case Study: Bamboozled (2000) 98
Questions for Discussion 100
Further Reading 100
Further Screening 101
5 Native Americans and American Film 102
The American "Indian" Before Film 103
Ethnographic Films and the Rise of the Hollywood Western 105
The Evolving Western 110
A Kinder, Gentler America? 115
Case Study: Smoke Signals (1998) 118
Conclusion: Twenty-First-Century Indians? 121
Questions for Discussion 122
Further Reading 122
Further Screening 122
6 Asian Americans and American Film 123
Silent Film and Asian Images 124
Asians in Classical Hollywood Cinema 126
World War II and After: War Films, Miscegenation Melodramas, and Kung Fu 130
Contemporary Asian American Actors and Filmmakers 134
Case Study: Eat a Bowl of Tea (1989) 140
Questions for Discussion 142
Further Reading 142
Further Screening 142
7 Latinos and American Film 143
The Greaser and the Latin Lover: Alternating Stereotypes 145
World War II and After: The Good Neighbor Policy 148
The 1950s to the 1970s: Back to Business as Usual? 152
Expanding Opportunities in Recent Decades 154
Conclusion: A Backlash Against Chicanos? 159
Case Study: My Family/Mi Familia (1995) 160
Questions for Discussion 163
Further Reading 163
Further Screening 163
Part III Class and American Film 165
Introduction to Part III: What is Class?
8 Classical Hollywood Cinema and Class 171
Setting the Stage: The Industrial Revolution 171
Early Cinema: The Rise of the Horatio Alger Myth 173
Hollywood and Unionization 178
Class in the Classical Hollywood Cinema 180
Case Study: The Grapes of Wrath (1940) 184
Conclusion: Recloaking Class Consciousness 186
Questions for Discussion 186
Further Reading 186
Further Screening 186
9 Cinematic Class Struggle After the Depression 187
From World War II to the Red Scare 187
From Opulence to Counterculture 191
Box: Class on Television 196
New Hollywood and the Resurrection of the Horatio Alger Myth 198
Case Study: Bulworth (1998) 204
Conclusion: Corporate Hollywood and Labor Today 204
Questions for Discussion 208
Further Reading 208
Further Screening 209
Part IV Gender and American Film 211
Introduction to Part IV: What is Gender?
10 Women in Classical Hollywood Filmmaking 217
Images of Women in Early Cinema 218
Early Female Filmmakers 222
Images of Women in 1930s Classical Hollywood 227
World War II and After 231
Case Study: All that Heaven Allows (1955) 234
Questions for Discussion 236
Further Reading 237
Further Screening 237
11 Exploring the Visual Parameters of Women in Film 238
Ways of Seeing 238
"Visual Pleasure and Narrative Cinema" 242
Case Study: Gilda (1946) 250
Conclusion: Complicating Mulvey's Arguments 253
Questions for Discussion 255
Further Reading 255
Further Screening 256
12 Masculinity in Classical Hollywood Filmmaking 257
Masculinity and Early Cinema 260
Masculinity and the Male Movie Star 262
World War II and Film Noir 267
Case Study: Dead Reckoning (1947) 272
Masculinity in 1950s American Film 274
Questions for Discussion 277
Further Reading 277
Further Screening 277
13 Gender in American Film Since the 1960s 278
Second Wave Feminism and Hollywood 278
Into the 1980s: A Backlash against Women? 283
Box: Women and American Television 284
A New Generation of Female Filmmakers 291
Case Study: The Ballad of Little Jo (1993) 296
Conclusion: Gender in the Early Twenty-First Century 296
Questions for Discussion 301
Further Reading 301
Further Screening 302
Part V Sexuality and American Film 303
Introduction to Part V: What is Sexuality?
14 Heterosexuality, Homosexuality, and Classical Hollywood 309
(Hetero)Sexuality on Screen 309
(Homo)Sexuality in Early Film 311
Censoring Sexuality during the Classical Hollywood Era 314
Postwar Sexualities and the Weakening of the Production Code 319
Camp and the Underground Cinema 324
Case Study: The Celluloid Closet (1995) 326
Questions for Discussion 328
Further Reading 328
Further Screening 328
15 Sexualities on Film Since the Sexual Revolution 329
Hollywood and the Sexual Revolution 329
Film and Gay Culture from Stonewall to AIDS 331
The AIDS Crisis 336
Queer Theory and New Queer Cinema 339
Box: Queer TV 340
Case Study: Go Fish (1995) 347
Hollywood Responds to New Queer Cinema 347
(Hetero)Sexualities in Contemporary American Cinema 352
Questions for Discussion 354
Further Reading 354
Further Screening 355
Part VI Ability and American Film 357
Introduction to Part VI: What is Ability?
16 Cinematic Images of (Dis)Ability 363
Disabled People in Early American Film: Curiosities and Freaks 364
Romanticizing Disability in Classical Hollywood Melodramas 368
Disability in War Movies and Social Problem Films 370
Disability and the Counterculture 374
Case Study: Children of a Lesser God (1986) 378
A More Enlightened Age? 380
Questions for Discussion 384
Further Reading 384
Further Screening 384
17 Making Connections 385
Case Study 1: Queen Christina (1933) 386
Case Study 2: The Old Maid (1939) 388
Case Study 3: The Gang's All Here (1943) 390
Case Study 4: A Patch of Blue (1965) 392
Case Study 5: Erin Brockovich (2000) 394
Case Study 6: 8 Mile (2002) 396
Case Study 7: Better Luck Tomorrow (2002) 398
Case Study 8: Saving Face (2004) 400
Case Study 9: Crash (2004) 402
Case Study 10: The Prize Winner of Defiance, Ohio (2005) 404
Case Study 11: Brokeback Mountain (2005) 406
Case Study 12: Quinceañera (2006) 408
Glossary 410
Index 432
New To This Edition
This new edition is fully revised and updated. It includes a new chapter on the representation of disability in American film, and a new collection of updated case studies, including discussions of 8 Mile, Erin Brockovich, Crash, and Brokeback Mountain, among others.


Reviews
"Concluding each chapter are discussion questions and lists of further reading and relevant films. Particularly valuable are the 28 two-page case studies (e.g., of
Lion King
,
Jazz Singer
,
Grapes of Wrath
,
Gilda
,
Celluloid Closet
,
Crash
,
Brokeback Mountain
) scattered throughout. These analyze the films in terms of culture group. A model of sociological criticism and an invaluable tool (in classroom or library) for film students." (
CHOICE
, August 2009)
"
America on Film
is a different kind of film studies textbook. It's an invaluable resource for classes examining the politics of Hollywood."
Ted Friedman, Associate Professor of Moving Image Studies, Georgia State University
"The authors do a remarkable job at presenting contexts for identifying and tracking the historical constructions of race, gender, class and sexuality … They successfully present a rich history, with references to hundreds of films." Scope Journal
"America on Film provides a clear and expansive examination of the complexities of representation and identity in American cinema. I currently use Benshoff and Griffin's book in my introductory film class on multiculturalism, and I look forward to using this new edition." Vicki Callahan , University of Wisconsin-Milwaukee
"In this era of diversity, American on Film is a great resource that clarifies critical concepts of inequality and illustrates how film representations can frame groups thus providing tools for thinking critically about the media we consume." Elizabeth Higginbotham, University of Delaware
"America on Film does what no other film textbook does: it takes its investigation of film beyond a study of form, production and exhibition, exposing how film functions as a powerful cultural agent for shaping American perceptions of race, gender, class and ability." Alison Landsberg, George Mason University
Features
Provides a comprehensive overview of the industrial, socio-cultural, and aesthetic factors that contribute to cinematic representations of race, class, gender, and sexuality
Includes over 100 illustrations, glossary of key terms, questions for discussion, and lists for further reading/viewing
Includes new case studies of a number of films, including Crash, Brokeback Mountain, and Quinceañera