American Adventurism Abroad: Invasions, Interventions, and Regime Changes Since World War II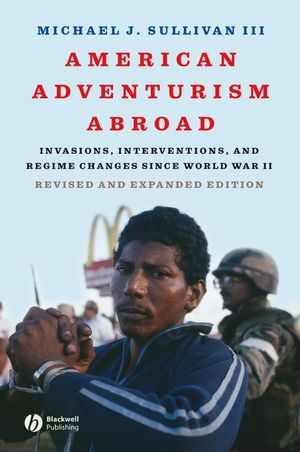 American Adventurism Abroad: Invasions, Interventions, and Regime Changes Since World War II
ISBN: 978-1-405-17075-8 December 2007 Wiley-Blackwell 280 Pages
Description
Now in its second edition,
American Adventurism Abroad
traces US foreign policy from the late 1940s through the past six years of America's 'war on terror,' and examines the impact of its repeated militaristic meddling into developing nations.


Examines 34 cases of overseas US militaristic meddling, drawn from eleven presidencies and five geographic regions

Provides not only understanding of the overseas interventions, but also a framework with which to interpret anticipated future American adventures

Describes two recent dramatic non-terrorist-related interventions occurring in the Western Hemisphere—in Venezuela and Haiti and two terrorist-related interventions in Afghanistan (confirmed) and Iraq (alleged)
Table of contents
List of Tables.
List of Abbreviations.
Introduction to the Revised Edition.
Introduction.
Part I: The Early Years: Embracing a New Role, 1945–1960.
1. From World War II to the Cold War: The Truman Years, 1945–52.
Introduction to the European Region.
Case 1: Greece, 1947–9.
Case 2: Italy, 1948.
Case 3: Philippines, 1946–53.
Introduction to the East Asian Region.
Bibliography.
2. The Expanding Empire Under Eisenhower, 1953–60.
Introduction to the Middle East.
Case 4: Iran, 1953.
Introduction to the Western Hemisphere.
Case 5: Guatemala, 1954.
Case 6: Lebanon, 1958.
Introduction to the Southeast Asia Sub-Region: Indochina–I.
Bibliography.
Part II: The Extremist Years, 1961–1976.
3. The Kennedy–Johnson Idealist Extensions, 1961–8.
Introduction to the African Region.
Case 7: Congo, 1961–5.
Case 8: Cuba, 1961.
Case 9: British Guiana, 1961–6.
Indochina–II.
Case 10: Laos, 1961–73.
Case 11: South Vietnam, 1961–5.
Case 12: Brazil, 1964.
Case 13: Dominican Republic, 1961–6.
Case 14: Indonesia, 1965–6.
Postscript: Greece, 1967–74.
Bibliography.
4. The Nixon–Ford Realist Consolidations, 1969–76.
Case 15: Cambodia, 1970.
Case 16: Kurdistan, 1971–5.
Case 17: Chile, 1973.
Case 18: Angola, 1975.
Case 19: Australia, 1975.
Case 20: East Timor, 1975.
Bibliography.
Part III: The Four-Year Aberration, 1977–1980.
5. Jimmy Carter's Human Rights Pause, 1977–80.
Bibliography.
Part IV: Transition to the Post-Cold War Era, 1981–2001.
6. Ronald Reagan: The Last Cold Warrior, 1981–8.
Case 21: El Salvador, 1979–91.
Case 22: Nicaragua, 1981–8.
Case 23: Grenada, 1983.
Case 24: Libya, 1981–6.
Case 25: Afghanistan, 1981–8.
Bibliography.
7. The Post-Cold War Era: Bush, Clinton, and the Search for New Themes, 1989–2000.
Case 26: Panama, 1989.
Case 27: Iraq, 1991.
Case 28: Somalia, 1992–94.
Case 29: Haiti, 1994.
Case 30: Yugoslavia, 1995 and 1999.
Bibliography.
Part V: The Attacks of 9-11 and the Start of a New Era.
8. George W. Bush and the "War on Terror".
Case 31: Afghanistan, 2001ff.
Case 32: Iraq, 2003ff.
Case 33: Venezuela, 2002.
Case 34: Haiti, 2004.
Bibliography.
Conclusion.
Index.
.
Reviews
"This is a superb tool for the advanced undergraduate or graduate student to combine multiple disciplines to the study of US foreign policy. This ought to become one of the most referenced theoretical approaches to US foreign policy."
Sanford R. Silverburg, Catawba College <!--end-->

"American Adventurism Abroad is a well-written, comprehensive, but concise text on U.S. interventions throughout the world. The breadth and diversity of the author's case analyses are impressive and valuable, as he covers both well known interventions and lesser known, even obscure, cases beginning in the immediate post-war period. Sullivan's individualized bibliographies, which he organizes by case or geographic area, will be extremely useful for both students and professors alike."
Timothy C. Lim, California State University, Los Angeles
Features


Traces US foreign policy from the late 1940s through the past six years of America's 'war on terror'

Examines 34 cases of overseas US militaristic meddling, drawn from eleven presidencies and five geographic regions

Provides not only understanding of the overseas interventions, but also a framework with which to interpret anticipated future American adventures

Describes two recent dramatic non-terrorist-related interventions occurring in the Western Hemisphere—in Venezuela and Haiti and two terrorist-related interventions in Afghanistan (confirmed) and Iraq (alleged)