American Business Since 1920: How It Worked, 2nd Edition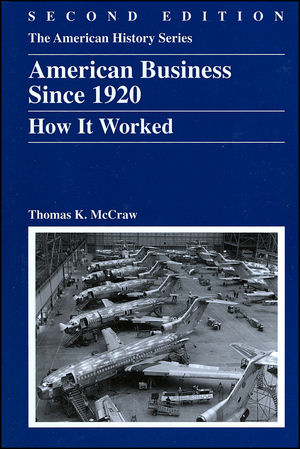 American Business Since 1920: How It Worked, 2nd Edition
ISBN: 978-0-882-95266-6
Nov 2008, Wiley-Blackwell
354 pages
Description
It's safe to say that since the first appearance of Thomas McCraw's contribution to Harlan Davidson's American History Series in 2000, American business has taken some of the most dramatic, perhaps most incredible, turns in its history.
Far more than an update, the second edition of one of our most popular texts has been carefully revised and reorganized—not only to include necessary new coverage but to present more fully and forcefully the book's central argument and major themes, making this new edition even more "teachable" for instructors and accessible to student readers.
Unique in the market for its breadth of coverage and depth of analysis, the new edition of our uncommonly readable book by Pulitzer Prize-winning author Thomas K. McCraw will continue as a classic supplementary text in a variety of undergraduate as well as graduate courses and seminars.
Featuring three banks of striking photographs and a completely up-to-date bibliographic essay, this compact, enjoyable work will be highly appreciated by all students of U.S. business history and the art of administration.
Foreword VII
Introduction 1
Themes 1
The Story Told Here 3
Past and Present 4
American Business and the World 6
A Matter of Size 7
The Key Internal Problem 9
The American Business Achievement 10
Chapter One: Decentralization in the 1920s: GM Defeats Ford 13
Cars and Trucks 13
Henry Ford (1863-1947) 15
Alfred P. Sloan, Jr. (1875-1966) 19
General Motors versus the Ford Motor Company 22
The Lessons of the Car Wars 25
Chapter Two: Brand Management in the 1930s: Decentralization at Procter & Gamble 32
The Great Depression 32
The Types of Firms That Prospered 33
Procter & Gamble 35
The Character of the Firm 38
Building the Market 41
Soap Operas 42
Neil McElroy's Epiphany about Brands 44
Doc Smelser and the Market Research Department 46
The Phenomenon of Brands 49
People as Brands 52
Updating P&G's Corporate Culture 53
Chapter Three: The New Deal and World War II, 1933-1945: Decentralizing Regulation and War Mobilization 57
Roosevelt, the New Deal, and Regulation 57
The World Conflict, 1939-1945 62
The U.S. Production Miracle 64
The Struggle to Manage Mobilization 65
Decentralization through the Controlled Materials Plan 67
Paying for the War 73
Employment and the Growth of the Workforce 74
Decentralized Rationing and Conscription 75
Big and Small Business 78
Aviation 78
Boeing Airplane 81
Ups and Downs 84
Postscript: The Scourge of Scandal 85
Chapter Four: Science and R&D: Color TV, Chemicals, and Pharmaceutical Strengthen Postwar Prosperity 88
Economic Background 88
Social Trends 90
R&D and the Cold War 92
Television and David Sarnoff 93
Sarnoff's Talents 94
The Birth of Broadcasting 96
RCA's Continuous Rise 98
Television Flourishes 101
Color TV 102
Progress and Missteps 105
Disasters 107
RCA's Management Report Card 110
The Perils of High-Tech Markets 112
R&D Done Right: The Chemical Industry 115
Polymers and Science 116
The Companies 117
Pharmaceuticals 120
Chapter Five: Franchising and McDonald's 126
Economic and Social Trends after 1973 126
Franchising: An Overview 129
The Champion Franchiser 130
Early History: The McDonald Brothers 131
Ray Kroc (1902-1984) 132
Kroc the Crusader 133
Recruiting Franchisees 135
June and Lou Martino 136
The Financial Wizard 137
The Big Leagues 140
Operational training 141
Decentralized Decision Making 143
The Importance of Good Franchisees 144
Marketing: Into the Mouths of Babes 146
The U.S. Workforce 147
The Negative Side 148
Internationalization 153
Past and Future 154
Prologue to Part II 157
Chapter Six: The Empowerment of Women and Minorities 161
Overview 161
Women in Business 162
Entrepreneurship 164
Highly Compensated Women 166
African Americans 169
Entrepreneurs 172
Highly Compensated African Women 174
Hispanics 176
Aggregates 178
Highly compensated Hispanics 180
Chapter Seven: The Financial System 184
The Background 184
The Functions of Finance 185
A Deluge of Data 186
Wall Street and the Stock Market 189
The Rising Importance of Finance 194
The Social Fallout 201
A Problem of Business, or of Government? 205
Widening Gaps in Wealth and Income 208
Chapter Eight: Information Technology 212
IT as "It" 212
Computers 213
The Changing Role of Government 217
How the Valley Developed 218
Organizational Innovation 221
The Internet 223
Companies and Personalities 227
Epilogue 245
Centralization and Decentralization 246
Other Themes since 1920 248
Bibliographical Essay 256
Acknowledgements 294
Index 295
Photos follow pages 55 and 156 and 243
Praise for the first edition:
"This succint, well-organized, and elegantly written account accomplishes a lot. McCraw succeeds in presenting the human dimension behind the development of American business since 1920." (Business History Review, May 2001)