American Heritage: Great Minds of History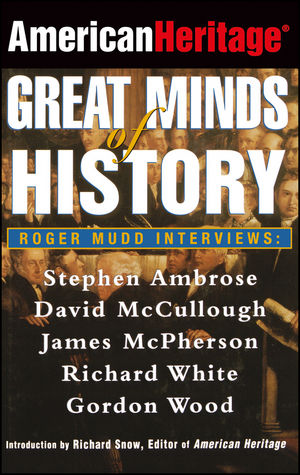 American Heritage: Great Minds of History
ISBN: 978-0-471-32715-8 February 1999 256 Pages
Description
The great historians of our day take you on an exhilarating tourthrough the crucial moments in American history . . .

"Easy reading and very informative."- Civil War News

"All the interviews are fascinating."- Tampa Tribune-Times

"Fascinating . . . Highly recommended."-Library Journal AmericanHeritage Great Minds of History

In a series of interviews that are as valuable as they areengrossing, today's best and brightest historians weigh in on thecrucial moments in American history. Whether it's the FirstContinental Congress or the Cold War, American Heritage Great Mindsof History takes you there, imbuing the past with an immediacy thatgoes well beyond the scope of formal histories.

Conducted by Roger Mudd, the highly respected news commentator andanchor for the History Channel, this collection shares thefascinating insights and rare anecdotes of: Gordon Wood on theColonial era and the American Revolution; James McPherson on theCivil War and Reconstruction; Richard White on westward expansion;David McCullough on the early twentieth century; and StephenAmbrose on World War II and the postwar era.

American Heritage magazine, the country's leading magazine ofhistory, has published dozens of highly acclaimed books, includingAmerican Heritage History of the United States, American HeritageNew History of the Civil War, American Heritage New History ofWorld War II, American Heritage Dictionary of American Quotations,and American Heritage Encyclopedia of American History.
Introduction: Talking History, by Richard Snow, Editor of AmericanHeritage.

Gordon Wood on the Colonial Era and Revolution.

James McPherson on the Civil War and Reconstruction.

Richard White on Westward Expansion.

David McCullough on the Industrial Era.

Stephen Ambrose on World War II and Postwar America.

Index.