American Heritage Book of Great American Speeches for Young People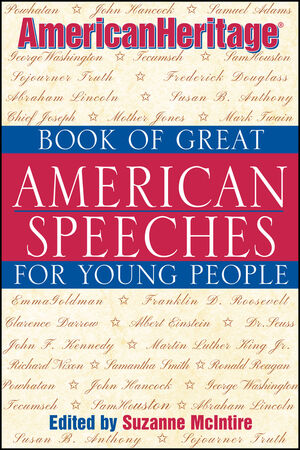 American Heritage Book of Great American Speeches for Young People
ISBN: 978-0-471-38942-2 August 2001 Jossey-Bass 308 Pages
Description
The history of the United States has been characterized by ferventidealism, intense struggle, and radical change. And for everycritical, defining moment in American history, there were thosewhose impassioned voices rang out, clear and true, and whose wordscompelled the minds and hearts of all who heard them. When PatrickHenry declared, "Give me liberty, or give me death!", when MartinLuther King Jr. said, "I have a dream", Americans listened and wereprofoundly affected. These speeches stand today as testaments tothis great nation made up of individuals with bold ideas andunshakeable convictions.

The American Heritage Book of Great American Speeches for YoungPeople includes over 100 speeches by founding fathers, patriots,Native American and African American leaders, abolitionists,women's suffrage and labor activists, writers, athletes, and othersfrom all walks of life, featuring inspiring and unforgettablespeeches by such notable speakers as:

Patrick Henry * Thomas Jefferson * Tecumseh * Frederick Douglass *Sojourner Truth * Abraham Lincoln * Susan B. Anthony * Mother Jones* Lou Gehrig * Franklin D. Roosevelt * Albert Einstein * Pearl S.Buck * Langston Hughes * John F. Kennedy * Martin Luther KingJr.

These are the voices that shaped our history. They are powerful,moving, and, above all else, uniquely American.
Table of contents
Introduction 1
Powhatan, Chief of the Powhatan Confederacy (1609) 5
To Captain John Smith
Big Mouth, Onondaga Chief (1684) 7
To De la Barre, Governor of Canada
Andrew Hamilton (1735) 9
In Defense of John Peter Zenger and the Freedom of the Press
Canasatego, Onondaga Chief (1744) 12
"We Will Make Men of Them"
John Hancock (1774) 14
On the Fourth Anniversary of the Boston Massacre
Logan, Mingo Chief (1774) 16
To Lord Dunmore
Patrick Henry (1775) 17
"Give Me Liberty or Give Me Death"
Solomon, Stockbridge Chief (1775) 20
"We Have Ever Been True Friends"
Samuel Adams (1776) 22
To the Continental Congress
Benjamin Franklin (1787) 25
To the Constitutional Convention
Jonathan Smith (1788) 28
To the Massachusetts Convention
George Washington (1796) 31
"Observe Good Faith and Justice towards All Nations"
Thomas Jefferson (1801) 34
First Inaugural Address
Red Jacket, Seneca Chief (1805) 36
"We Never Quarrel about Religion"
Tecumseh, Shawnee Chief (1811) 39
"Sleep Not Longer, O Choctaws and Chickasaws"
Pushmataha, Choctaw Chief (1824) 42
Welcome to Lafayette
Daniel Webster (1825) 43
Bunker Hill Oration
Black Hawk, Sauk Chief (1832) 46
"Farewell to Black Hawk"
Sam Houston (1836) 49
"Remember the Alamo!"
Elijah Lovejoy (1837) 51
In Defense of a Free Press
Angelina Grimke (1838) . 53
"What Has the North to Do with Slavery?"
Henry Highland Garnet (1843) 56
The Call to Rebellion
Lewis Richardson (1846) 58
"My Grave Shall Be Made in Free Soil"
Thomas Corwin (1847) 61
Against War with Mexico
Frederick Douglass (1847) 64
"If I Had a Country, I Should Be a Patriot"
Henry Clay (1850) 67
A Call for a Measure of Compromise
Sojourner Truth (1851) 69
"If You Have Woman's Rights, Give Them to Her"
Frederick Douglass (1852) 71
"What to the American Slave Is Your Fourth of July?"
Ralph Waldo Emerson (1854) 73
On the Fugitive Slave Law
Seattle, Duwamish Chief (1854) 76
"We Will Dwell Apart and in Peace"
Lucy Stone (1855) 79
"A Disappointed Woman"
Abraham Lincoln (1858) 81
"A House Divided"
Stephen Douglas (1858) 83
Sixth Lincoln-Douglas Debate
John Brown (1859) 85
To the Court after Sentencing
William Lloyd Garrison (1859) 87
On the Death of John Brown
Jefferson Davis (1861) 89
Farewell to the Senate
Abraham Lincoln (1863) 91
The Gettysburg Address
Abraham Lincoln (1865) 93
"With Malice toward None, with Charity for All"
Henry M. Turner (1868) 95
"I Hold That I Am a Member of This Body"
George Graham Vest (1870) 97
Eulogy on the Dog
Cochise, Chiricahua Apache Chief (1872) 99
"We Will Remain at Peace with Your People Forever"
Susan B. Anthony (1873) 101
"Are Women Persons?"
Chief Joseph, Nez Perce (1877) 104
"I Will Fight No More Forever"
Elizabeth Cady Stanton (1892) 106
"The Solitude of Self"
William Jennings Bryan (1896) 109
"A Cross of Gold"
Russell Conwell (late 1890s) 112
"Acres of Diamonds"
Harry Gladstone (1898) 116
To the Machine Tenders Union
Mother Jones (1901) 117
To the United Mine Workers of America
Florence Kelley (1905) 120
"Freeing the Children from Toil"
Mark Twain (1906) 122
"In Behalf of Simplified Spelling"
Theodore Roosevelt (1910) 125
Citizenship in a Republic
Rose Schneiderman (1911) 127
On the Triangle Shirtwaist Company Fire
John Jay Chapman (1912) 129
The Coatesville Address
Stephen S. Wise (1914) 133
Tribute to Lincoln
Woodrow Wilson (1915) 135
"An Oath of Allegiance to a Great Ideal"
Anna Howard Shaw (1915) 137
The Fundamental Principle of a Republic
Woodrow Wilson (1917) 140
"The World Must Be Made Safe for Democracy"
Emma Goldman (1917) 143
"First Make Democracy Safe in America"
Eugene V. Debs (1918) 146
"While There Is a Lower Class, I Am in It"
Clarence Darrow (1924) 149
In Defense of Leopold and Loeb
Alfred E. Smith (1928) 153
"Anything Un-American Cannot Live in the Sunlight"
Franklin D. Roosevelt (1933) 155
"The Only Thing We Have to Fear Is Fear Itself"
Lou Gehrig (1939) 158
"The Luckiest Man on the Face of the Earth"
Harold Ickes (1941) 160
"What Constitutes an American?"
Franklin D. Roosevelt (1941) 162
"A Date Which Will Live in Infamy"
Learned Hand (1944) 165
"The Spirit of Liberty"
Dwight D. Eisenhower (1944) 167
"The Eyes of the World Are upon You"
Franklin D. Roosevelt (1944) . 169
The Fala Address
Douglas MacArthur (1944) 171
"People of the Philippines: I Have Returned"
Roland Gittelsohn (1945) 173
Eulogy at the Marine Corps Cemetery
Albert Einstein (1947) 176
To the United Nations
Margaret Chase Smith (1950) 179
"The Four Horsemen of Calumny"
William Faulkner (1950) 182
"I Decline to Accept the End of Man"
Pearl Buck (1951) 184
Forbidden to Speak at Cardozo High School Graduation
Charlotta Bass (1952) 187
"Let My People Go"
Richard Nixon (1952) 190
The Checkers Speech
Martin Luther King Jr. (1955) 192
"There Comes a Time When People Get Tired"
Langston Hughes (1957) 194
"On the Blacklist All Our Lives"
Roy Wilkins (1957) 197
"The Clock Will Not Be Turned Back"
John F. Kennedy (1961) 200
"Ask What You Can Do for Your Country"
Douglas MacArthur (1962) 204
"Duty, Honor, Country"
John F. Kennedy (1963) 206
"Let Them Come to Berlin"
Martin Luther King Jr. (1963) 208
"I Have a Dream"
Charles B. Morgan Jr. (1963) 211
"Four Little Girls Were Killed"
Earl Warren (1963) 214
Eulogy for President John F. Kennedy
Malcolm X (1964) 216
"The Ballot or the Bullet"
Barry Goldwater (1964) 220
"Extremism in the Defense of Liberty Is No Vice"
Mario Savio (1964) 223
"History Has Not Ended"
Lyndon Baines Johnson (1965) 225
"We Shall Overcome"
Adlai Stevenson (1965) 229
To the United Nations
William Sloane Coffin Jr. (1967) 231
"The Anvil of Individual Conscience"
Cesar Chavez (1968) 234
"God Help Us to Be Men!"
J. William Fulbright (1968) 236
"The Focus Is Vietnam"
Martin Luther King Jr. (1968) 239
"I've Been to the Mountaintop"
Robert F. Kennedy (1968) 242
On the Assassination of Martin Luther King Jr.
Shirley Chisholm (1969) 245
"The Business of America Is War"
Frank James (1970) 248
On the 350th Anniversary of Plymouth
Archibald Cox (1971) 251
"The Price of Liberty to Speak the Truth"
Barbara Jordan (1974) 253
"My Faith in the Constitution Is Whole"
Richard Nixon (1974) 256
"I Shall Resign the Presidency"
Silvio Conte (1975) 258
"I Must 'Raise a Beef' about This Bill"
Dr. Seuss (1977) 260
Commencement Address at Lake Forest College
Esther Cohen (1981) 261
At the Liberators Conference
Samantha Smith (1983) 263
"Look Around and See Only Friends"
Ronald Reagan (1986) 266
To the Nation on the Challenger Disaster
Thurgood Marshall (1987) 268
On the Bicentennial of the Constitution
Ronald Reagan (1987) 271
"Mr. Gorbachev, Tear Down This Wall!"
Jesse Jackson (1988) 274
To the Democratic National Convention
Daniel Inouye (1993) 276
To the 442nd Infantry Regimental Combat Team
Cal Ripken Jr. (1995) 279
To His Fans
Charles S. Robb (2000) 281
"They Died for That Which Can Never Burn"
Appendix: To the Young Speaker 285
Permissions 287
Photo Credits 288
Index of Speakers 289
Index of Themes 291
Reviews
How many of you remember the agony of having to memorize theGettysburg Address in school? Or perhaps it was something by one ofthe founding father? "Who needs this stuff?" you would moan."What's the point?"
The major problem with historic orations, students have alwayscomplained, is that they are dry. American Heritage, one of theforemost magazine about this nation's culture, has collected aneclectic set of speeches given not only by politicians, but also bypeople in many walks of life, from sports figures to "ordinary"people in extraordinary circumstances.
The Book of Great American Speeches for Young People contains over100 discourses on a myriad of topics. Some classics can be foundwithin, such as Martin Luther King Jr.'s "I Have a Dream andFranklin Delano Roosevelt's address after the bombing of PearlHarbor on December 7, 1941, "a date which will live in infamy." Ona lighter political note, there's the "Checker's Speech," in whichRichard Nixon swore that the only gift he received during 1952campaign was a little cocker spaniel and that "we're gonna keephim."
Other orators in The Book of Great American Speeches for YoungPeople include Malcolm X, Langston Hughes, John F. Kennedy,Elizabeth Cady Stanton and Mark Twain, just to name a few. Speechesare used to influence and encourage, so there are several"declamations" which consider the struggles for women's suffrage,civil right and the evils of slavery. And since the nation wasfounded on free speech, there are also numerous discourses ofprotest and dissent.
The less earthshaking fare, though no less dramatic, is also here.Lou Gehrig paid an emotional farewell to baseball, in which, thoughstricken with the terminal illness that would one day bear hisname, he considered himself "the luckiest man on the face of theearth."
One of the more poignant speeches, to which young readers willrelate, was given by 10-year old Samantha Smith in 1983 to theChildren's Symposium on the Year 2001, after her impassioned letterto Soviet Premier Yuri Adropov made world news. The letter statedher fears nuclear war between his country and American, provingthat young people can make that difference.
In addition to its generous collection, The Book of Great AmericanSpeeches for Young People encourages readers to speak out for whatthey believe in. Its concluding chapter on how (and why) to make aneffective speech will give the reader a boost of confidence and askill which will prove useful long after school days are over.(BookPage, October 2001)

Gr7 Up--A useful compendium of more than 100 speeches that spannearly 400 years of American history, from Powhatan (1609) toSenator Charles Robb (2000). Prominent orators include PatrickHenry, Thomas Jefferson, John Kennedy, Richard Nixon, Martin LutherKing Jr., and Malcolm X. Two indexes allow readers to find aselection by its speaker or its theme. Black-and-white photos andreproductions accompany many of the entries. Alongside the FoundingFathers and patriots are athletes, authors, and media celebrities.The speeches inform readers and provide examples of how the spokenword has affected Americans throughout our past. --David M.Alperstein, Queens Borough Public Library, NY (School LibraryJournal, December 2001)