American History Workbook, Volume I: To 1865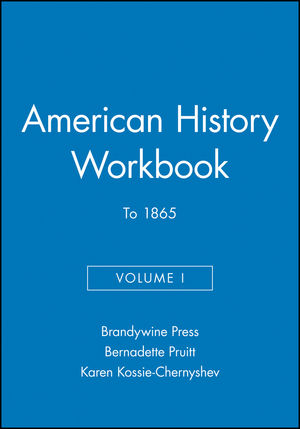 American History Workbook, Volume I: To 1865
ISBN: 978-1-881-08972-8 July 2003 Wiley-Blackwell 180 Pages
Description
Active learning about the founding of the United States
The American History Workbook engages students in the study of our nation's history with challenging exercises that promote more active learning. Volume I: To 1865 begins with the golden age of exploration and the relationships between Europe, Africa, and the Americas, setting the stage for colonial establishment. From early territorial issues through the Revolution, then on to the Civil War, this workbook tracks the tumultuous early period of the history of the United States.
Instructions.
1. Origins and Beginnings.
2. Contract.
3. The English Colonies.
4. Growing British, Becoming American.
5. British Blunders and American Rage.
6. Winning Independence.
7. Constituting the National Republic.
8. Jefferson and His Agricultural Republic.
9. The Seaboard and Inland Frontier.
10. A Nation at Work: Labor, Transportation, and the Economy.
11. Perfectionism, 1800-1850.
12. An Empire for Slavery.
13. Toward Disunion.
14. The Civil War.
15. Reconstructing the South.