American Indian History: A Documentary Reader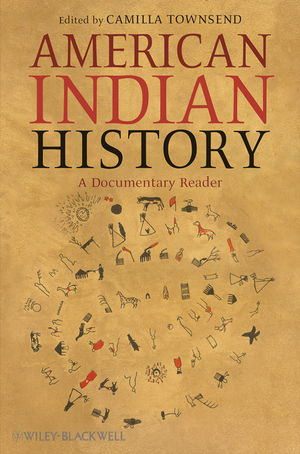 American Indian History: A Documentary Reader
ISBN: 978-1-405-15908-1 April 2009 Wiley-Blackwell 262 Pages
Description
This Reader from the Uncovering the Past  series provides a comprehensive introduction to American Indian history.
Over 60 primary documents allow the voices of natives to illuminate the American past
Includes samples of native languages just above the full translations of particular texts
Provides comprehensive introductions and headnotes, as well as images, an extensive bibliography, and suggestions for further research
Includes such texts as a decoded Maya inscription, letters written during the French and Indian War on the distribution of small pox blankets, and a diatribe by General George Armstrong Custer shortly before he was killed at the Battle of the Little Big Horn

Buy Both and Save 25%!
Original Price:$106.90
Purchased together:$80.18
save $26.72
Cannot be combined with any other offers.
Series Editors' Preface viii
Acknowledgments x
Introduction 1
Chapter 1 Indian Ways 9
1 Maya Glyphs at Piedras Negras 9
2 Ancient Nahuatl Prayers from the Florentine Codex 12
3 Pueblo Bonito of Chaco Canyon 14
4 Images of Secotan 17
5 Two Versions of the Haudenosaunee (Iroquois) Creation Story 21
Chapter 2 First Contact 27
1 Arrival of the Spaniards in the Annals of Tlatelolco 27
2 Response to the Spanish by Native Priests 29
3 Don Luis Travels the World 31
4 The Arrival of the Dutch at Manhattan in Native Memory 33
Chapter 3 The Expectations of the Strangers 39
1 Christopher Columbus's Journal 39
2 Cabeza de Vaca's Experiences in North America 41
3 Thomas Harriot's Observations at Roanoke 43
4 John Smith's Visit to Werowocomoco 44
5 Edward Waterhouse's Report on the Events of 1622 46
Chapter 4 The Long Struggle for American Lands 50
1 A Jesuit's Story of the 1639 Smallpox Epidemic 50
2 Gandeaktena's Decision to Become a Christian 52
3 Metacom's Grievances 55
4 Mary Rowlandson's Narrative 57
5 The Declaration of a Rebellious Christian Indian in the Pueblo Revolt 61
Chapter 5 Eighteenth-Century Power Shifts 64
1 The Refusal of Some English Prisoners to Return to English Life 64
2 The Abenakis' Forceful Statement to the English 68
3 The Chickasaws' Political Vision in 1723 72
4 Sir Jeffery Amherst Suggests the Smallpox 76
5 The Chickasaws after the Revolution 81
6 George Washington's Indian Policy 84
Chapter 6 What the New Nation Portended for Indians 89
1 Lewis and Clark in the Pacific Northwest 89
2 Russian Settlements in Alaska 91
3 Tecumseh's Demands 94
4 The Cherokee Syllabary and Newspaper 99
5 The Cherokee Debate in Washington 102
6 Black Hawk's Autobiography 112
7 William Apess's Condemnation of White America 118
Chapter 7 The Losing of the West 122
1 Charles Ohiyesa Eastman's Childhood Memories 122
2 Lone Dog's Winter Count, 1800–1870 125
3 Sarah Winnemucca's Choices 135
4 The Views of George Armstrong Custer 136
5 Black Elk's Memories of the Battle of the Little Big Horn 138
6 Elaine Goodale's Observations of the Ghost Dance 142
7 Charles Ohiyesa Eastman's Visit to Wounded Knee 144
8 Geronimo's Story of His Life 146
Chapter 8 Surviving Assimilation and the National Imagination 154
1 The 1887 Statement of the Commissioner of Indian Affairs 154
2 Francis La Flesche's Memories of Boarding School 157
3 A Navajo Girl's Letters Home from Boarding School 161
4 William Stoddard's The Talking Leaves 164
5 The Arguments of The Quarterly Journal 166
Chapter 9 Mid-Twentieth-Century Changes 171
1 The Arts and Crafts Act of 1935 171
2 The Navajo Contribution to the War Effort 175
3 The Musings of an Iroquois High Steel Man 177
4 The Menominee Struggle against Termination 181
Chapter 10 The Upheavals of the 1960s and 1970s 184
1 The 1961 Declaration of Indian Purpose 184
2 The Alcatraz Proclamation 186
3 Vine Deloria's Custer Died for Your Sins 189
4 The Thoughts of Mary Crow Dog 192
5 A Reporter's Comments on the Deaths at Pine Ridge 195
Chapter 11 The End of the Twentieth Century: A New Era? 198
1 The Origins of the Native American Graves Protection and Repatriation Act (NAGPRA) 198
2 Growing Pan-Indian Activism and the Native Press 201
3 Louise Erdrich's ''Dear John Wayne'' 205
4 President Clinton's 1994 Conference with Native Leaders 207
5 Struggles over the Indian Gaming Regulatory Act 211
6 An Elder's Stories for Future Generations 216
7 List of Federally Recognized Tribes Today 219
Selected Bibliography 233
Index 240
Over 60 primary documents allow the voices of natives to illuminate the American past

Includes samples of native languages just above the full translations of particular texts

Provides comprehensive introductions and headnotes, as well as images, an extensive bibliography, and suggestions for further research

Includes such texts as a decoded Maya inscription, letters written during the French and Indian War on the distribution of small pox blankets, and a diatribe by General George Armstrong Custer shortly before he was killed at the Battle of the Little Big Horn