American Pit Bull Terrier: Your Happy Healthy Pet, 2nd Edition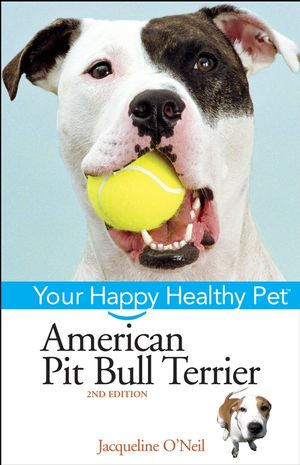 American Pit Bull Terrier: Your Happy Healthy Pet, 2nd Edition
ISBN: 978-0-471-74822-9
Jan 2006
144 pages
Product not available for purchase
Description
Your Happy Healthy Pet

The authoritative information and advice you need, illustrated throughout with full-color photographs--now revised and redesigned to be even more reader-friendly!

Powerful, but affectionate. Enthusiastic and fun, but hard working. Playful, yet provocative. Exceptionally intelligent, but sometimes comical. American Pit Bull Terriers are among the most beloved dogs as well as the most misunderstood, feared, and despised. This guide fills you in on the breed's needs and attributes, covering:
* The distinction between the American Pit Bull Terrier and the "generic" pit bull
* Traits to look for in choosing your pet
* Things you'll need to make your pup feel at home
* Feeding, grooming, and healthcare
* The importance of positive yet firm training, socialization, and supervision around kids
* Bonus chapters available on companion Web site


Provide guidance for American Pit Bull Terrier and you will have a loyal companion for life.
Part I: The World of the American Pit Bull Terrier.
Chapter 1: What Is an American Pit Bull Terrier?
The Bull Breeds.
The APBT's Physical Appearance.
The APBT's Character.
Mythology.
Chapter 2: The APBT Yesterday and Today.
Origins of the APBT.
The Ancient Bulldog.
The Blood Sports.
The Bull-and-Terrier.
Arrival in America.
The Dog of the Day.
Media Monster.
Breed-Specific Legislation.
The APBT Today.
Chapter 3: Why Choose an APBT?
Are You Ready for a Dog?
The Pet APBT.
Working APBTs.
Defective Dogs.
If APBTs Could Choose Their Owners.
Chapter 4: Choosing Your APBT.
Breeder, Rescue, Shelter, or Free?
Finding the Right APBT.
Choosing the APBT Puppy for You.
The Puppy Temperament Test.
Choosing an APBT Adult.
Part II: Caring for Your American Pit Bull Terrier.
Chapter 5: Getting Ready for Your APBT.
A Secure Yard.
Puppy-Proofing Your Home.
Basic Supplies.
The Great Crate.
Puppy Essentials.
Pet Professionals.
Chapter 6: Feeding Your APBT.
Commercial Dog Foods.
Homemade Diets.
Nutrition Throughout Your Dog's Life.
Changing Foods.
Reading Dog Food Labels.
Seven Mistakes to Avoid.
Chapter 7: Grooming Your APBT.
Brushing.
Bathing Your APBT.
Trimming Toenails.
Cleaning Those Pearly Whites.
Making Your Environment Flea Free.
Cleaning Ears.
Chapter 8: Keeping Your APBT Healthy.
Internal Parasites.
External Parasites.
Health Problems.
Handling Common Problems.
Emergency How-To's.
When to Call the Veterinarian.
How to Make a Canine First-Aid Kit.
Spaying and Neutering for a Happier, Healthier Dog.
Part III: Enjoying Your American Pit Bull Terrier.
Chapter 9: Training Your ABPT.
Understanding Builds the Bond.
Practical Commands for Family Pets.
Training for Attention.
Teaching Cooperation.
Chapter 10: Housetraining Your APBT.
Your Housetraining Shopping List.
The First Day.
Confine Your Pup.
Watch Your Pup.
Accidents Happen.
Scheduling Basics.
Appendix: Learning More About Your APBT.
Some Good Books.
Magazines.
On the Internet.
Organizations.
Index.
Bonus Chapter 1: Getting Active with Your APBT
This Bonus Chapter is in PDF format. You will need Adobe Reader installed to view this file. If you do not have Adobe Reader on your computer, you can download it from Adobe's website.
Download
Bonus Chapter 2: Your APBT and Your Family
This Bonus Chapter is in PDF format. You will need Adobe Reader installed to view this file. If you do not have Adobe Reader on your computer, you can download it from Adobe's website.
Download
Bonus Chapter 3: Additional Housetraining Schedules
This Bonus Chapter is in PDF format. You will need Adobe Reader installed to view this file. If you do not have Adobe Reader on your computer, you can download it from Adobe's website.
Download