American Regional Cuisine, 3rd Edition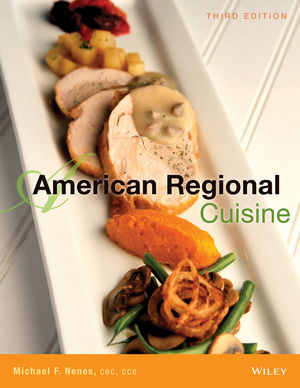 American Regional Cuisine, 3rd Edition
ISBN: 978-1-118-80283-0
Mar 2015
496 pages
Description
American Regional Cuisine, Third Edition combines history, anthropology, and cuisine into a clear and comprehensive resource for the American Regional course. Its menu-driven approach makes this book unique in the marketplace, providing unparalleled value to culinary-arts students.
Introduction v

Acknowledgments viii

The Cuisine of New England 2

The Cuisine of the Mid-Atlantic 44

The Cuisine of the South 86

Floribbean Cuisine 132

Louisiana's Cajun and Creole Cuisines 172

The Cuisine of the Central Plains 214

Texas and Tex-Mex Cuisine 252

The Cuisine of the Southwest and the Rocky Mountain Region 304

The Cuisine of California 348

The Cuisine of the Pacific Northwest 386

The Cuisine of Hawaii 430

Basic Culinary Vocabulary 469

Sustainability Key Terms 474

References 481

Index 482
Adopts a new focus on sustainability as it relates to the culinary industry.
Each traditional regional chapter will now be complemented with one new contemporary menu and accompanying recipes for added diversity—for a total of three complete menus.
Menu coverage includes new information on how the menus were developed and why any special ingredients were used in their development
Upgraded to a 4-color text with 125 new full color plated dish photographs—this is in response to AI request and reviewer recommendations to depict regional dishes in a more visually appealing and contemporary style.
Discusses the history, culture, and evolution of the different cuisines in each region of America
Only book that is organized by region of the U.S.
250 total recipes from eleven regional culinary traditions
One of the few books in this topic area that is appropriate for the culinary student
Well-known chefs and restaurateurs introduce the cuisine of each region
Establishes a cultural and historical context and describes the indigenous ingredients, unusual techniques, and special touches that give each style of cooking its unique signature