Amino Acids, Peptides and Proteins in Organic Chemistry, Volume 1, Origins and Synthesis of Amino Acids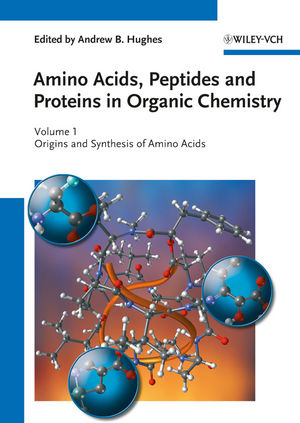 Amino Acids, Peptides and Proteins in Organic Chemistry, Volume 1, Origins and Synthesis of Amino Acids
ISBN: 978-3-527-32096-7
Sep 2009
734 pages
Description
This is the first of five books in the Amino Acids, Peptides and Proteins in Organic Synthesis series. 
Closing a gap in the literature, this is the only series to cover this important topic in organic and biochemistry. Drawing upon the combined expertise of the international "who's who" in amino acid research, these volumes represent a real benchmark for amino acid chemistry, providing a comprehensive discussion of the occurrence, uses and applications of amino acids and, by extension, their polymeric forms, peptides and proteins.
The practical value of each volume is heightened by the inclusion of experimental procedures.
The 5 volumes cover the following topics:
Volume 1: Origins and Synthesis of Amino Acids
Volume 2: Modified Amino Acids, Organocatalysis and Enzymes
Volume 3: Building Blocks, Catalysis and Coupling Chemistry
Volume 4: Protection Reactions, Medicinal Chemistry, Combinatorial Synthesis
Volume 5: Analysis and Function of Amino Acids and Peptides
This first volume is clearly divided into two parts. The first section deals with the origins of extraterrestrial and "terrestrial" amino acids and their evolution. The second part looks at their production and synthesis, including recent developments in the synthesis of ß-Amino acids. 
Originally planned as a six volume series, Amino Acids, Peptides and Proteins in Organic Chemistry now completes with five volumes but remains comprehensive in both scope and coverage.
Further information about the 5 Volume Set and purchasing details can be viewed here.
List of Contributors XVII
Part One Origins of Amino Acids 1
1 Extraterrestrial Amino Acids 3
Z. Martins and M.A. Sephton
1.1 Introduction 3
1.2 ISM 6
1.3 Comets 9
1.4 Meteorites 11
1.5 Micrometeorites and IDPs 23
1.6 Mars 23
1.7 Delivery of Extraterrestrial Amino Acid to the Earth and its Importance to the Origin of Life 24
1.8 Conclusions 26
References 27
2 ''Terrestrial'' Amino Acids and their Evolution 43
Stephen Freeland
2.1 Introduction 43
2.2 What are the 20 ''Terrestrial'' Amino Acids? 44
2.3 What do We Know about the Evolution of the Standard Amino Acid Alphabet? 49
2.4 Amino Acids that Life Passed Over: A Role for Natural Selection? 58
2.5 Why Does Life Genetically Encode L-Amino Acids? 64
2.6 Summary, Synthesis, and Conclusions 64
References 66
Part Two Production/Synthesis of Amino Acids 77
3 Use of Enzymes in the Synthesis of Amino Acids 79
Theo Sonke, Bernard Kaptein, and Hans E. Schoemaker
3.1 Introduction 79
3.2 Chemo-Enzymatic Processes to Enantiomerically Pure Amino Acids 80
3.3 Acylase Process 81
3.4 Amidase Process 83
3.5 Hydantoinase Process 88
3.6 Ammonia Lyase Processes 90
3.7 Aminotransferase Process 94
3.8 AADH Process 99
3.9 Conclusions 102
References 103
4 b-Amino Acid Biosynthesis 119
Peter Spiteller
4.1 Introduction 119
4.2 Biosynthesis of b-Amino Acids 120
4.3 Conclusions and Future Prospects 154
References 155
5 Methods for the Chemical Synthesis of Noncoded a-Amino Acids found in Natural Product Peptides 163
Stephen A. Habay, Steve S. Park, Steven M. Kennedy, and A. Richard Chamberlin
5.1 Introduction 163
5.2 Noncoded CAAs 164
5.3 Noncoded Amino Acids by Chemical Modification of Coded Amino Acids 185
5.4 Noncoded Amino Acids with Elaborate Side-Chains 205
5.5 Conclusions 226
References 226
6 Synthesis of N-Alkyl Amino Acids 245
Luigi Aurelio and Andrew B. Hughes
6.1 Introduction 245
6.2 N-Methylation via Alkylation 246
6.3 N-Methylation via Schiff .s Base Reduction 259
6.4 N-Methylation by Novel Methods 265
6.5 N-Alkylation of Amino Acids 280
References 286
7 Recent Developments in the Synthesis of b-Amino Acids 291
Yamir Bandala and Eusebio Juaristi
7.1 Introduction 291
7.2 Synthesis of b-Amino Acids by Homologation of a-Amino Acids 291
7.3 Chiral Pool: Enantioselective Synthesis of b-Amino Acids from Aspartic Acid, Asparagine, and Derivatives 298
7.4 Synthesis of b-Amino Acids by Conjugate Addition of Nitrogen Nucleophiles to Enones 300
7.5 Synthesis of b-Amino Acids via 1,3-Dipolar Cycloaddition 312
7.6 Synthesis of b-Amino Acids by Nucleophilic Additions 316
7.7 Synthesis of b-Amino Acids by Diverse Addition or Substitution Reactions 328
7.8 Synthesis of b-Amino Acids by Stereoselective Hydrogenation of Prochiral 3-Aminoacrylates and Derivatives 330
7.9 Synthesis of b-Amino Acids by use of Chiral Auxiliaries: Stereoselective Alkylation 334
7.10 Synthesis of b-Amino Acids via Radical Reactions 338
7.11 Miscellaneous Methods for the Synthesis of b-Amino Acids 340
7.12 Conclusions 347
7.13 Experimental Procedures 348
8 Synthesis of Carbocyclic b-Amino Acids 367
Loránd Kiss, Enik}o Forró, and Ferenc Fülöp
8.1 Introduction 367
8.2 Synthesis of Carbocyclic b-Amino Acids 368
8.3 Synthesis of Functionalized Carbocyclic b-Amino Acid Derivatives 385
8.4 Enzymatic Routes to Carbocyclic b-Amino Acids 393
8.5 Conclusions and Outlook 398
8.6 Experimental Procedures 399
References 405
9 Synthetic Approaches to a,b-Diamino Acids 411
Alma Viso and Roberto Fernández de la Pradilla
9.1 Introduction 411
9.2 Construction of the Carbon Backbone 411
9.3 Introduction of the Nitrogen Atoms in the Carbon Backbone 425
9.4 Conclusions 433
9.5 Experimental Procedures 434
References 435
10 Synthesis of Halogenated a-Amino Acids 441
Madeleine Strickland and Christine L. Willis
10.1 Introduction 441
10.2 Halogenated Amino Acids with a Hydrocarbon Side-Chain 442
10.3 Halogenated Amino Acids with an Aromatic Side-Chain 457
10.4 Halogenated Amino Acids with Heteroatoms in the Aliphatic Side-Chain 463
References 466
11 Synthesis of Isotopically Labeled a-Amino Acids 473
Caroline M. Reid and Andrew Sutherland
11.1 Introduction 473
11.2 Enzyme-Catalyzed Methods 473
11.3 Chiral Pool Approach 477
11.4 Chemical Asymmetric Methods 483
11.5 Conclusions 488
11.6 Experimental Procedures 489
References 491
12 Synthesis of Unnatural/Nonproteinogenic a-Amino Acids 495
David J. Ager
12.1 Introduction 495
12.2 Chemical Methods 497
12.3 Enzymatic Methods 508
12.4 Conclusions 516
12.5 Experimental Procedures 516
References 520
13 Synthesis of g- and d-Amino Acids 527
Andrea Trabocchi, Gloria Menchi, and Antonio Guarna
13.1 Introduction 527
13.2 g-Amino Acids 528
13.3 d-Amino Acids 547
13.4 Conclusions 566
References 567
14 Synthesis of g-Aminobutyric Acid Analogs 573
Jane R. Hanrahan and Graham A.R. Johnston
14.1 Introduction 573
14.2 a-Substituted g-Amino Acids 575
14.3 b-Substituted g-Amino Acids 579
14.4 g-Substituted g-Amino Acids 592
14.5 Halogenated g-Amino Acids 599
14.6 Disubstituted g-Amino Acids 600
14.7 Trisubstituted g-Amino Acids 604
14.8 Hydroxy-g-Amino Acids 605
14.9 Unsaturated g-Amino Acids 640
14.10 Cyclic g-Amino Acids 644
14.11 Conclusions 666
14.12 Experimental Procedures 666
References 677
Index 691
"The presentation of selected typical experimental procedures is very welcome ... .Provides concise information from the point of view of experts working in the fields, and critically selecting the important recent literature." (ChemBioChem, March 2010)