An Aid to the MRCP PACES: Stations 1, 3 and 5, Volume 1, 3rd Edition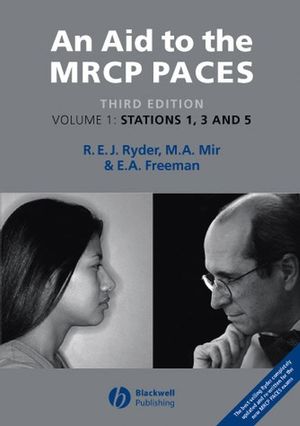 An Aid to the MRCP PACES: Stations 1, 3 and 5, Volume 1, 3rd Edition
ISBN: 978-1-444-31296-6 April 2009 Wiley-Blackwell 584 Pages
Description
The forerunner to this book - Ryder, Mir & Freeman's 'An Aid to the MRCP Short Cases' - rapidly established itself as a classic and has sold over 30,000 copies.
The new Progressive Assessment of Clinical Examination Skills (PACES) has replaced the old short case exam and, as a result, the authors have revised, reworked and extended their highly successful text so that it continues to address the study needs of candidates. This new revision aid is now presented in two volumes:



An Aid to the MRCP PACES Volume 1: Stations 1, 3 and 5


An Aid to the MRCP PACES Volume 2: Stations 2 and 4
This Volume covers Station 1 'Respiratory and Abdominal Systems', Station 3 'Cardiovascular and Neurological Systems' and Station 5 'Skin, Locomoter, Eyes and the Endocrine System'. The 200 cases have been written in accordance with the new examining and marking schemes used for the exam. They provide an invaluable training and revision aid for all candidates.
Table of contents
Contents list from MRCP Short Cases 2E attached. This will be re-structured around the stations. Formal list to follow in due course.
Reviews
Reviews of An Aid to the MRCP Short Cases:
"...this is an excellent book, giving good advice on how to become a skilled, thoughtful and knowledgeable physician and hence how to become a MRCP (UK)"
Journal of the Royal College of Physicians of London, on the previous edition
"The case-by-case approach is useful in preparing for Medicine finals. Together with the examination routines, the book becomes a kind of alternative textbook to conventional clinical examination books such as McCleods."
2nd Opinion, The Magazine of the Scottish Medical Schools
"...an invaluable companion to undergraduates in medical finals. It is easy to filter out the more obscure cases but this being said, the vast majority of the information is relevant to House Officers-to-be. This book is excellent value for money; the buy is well worth it."
Leech Y Gelen, University of Wales College of Medicine Gazette
Features
* Volume 1 covers 200 cases, structured around the actual PACES stations 1,3 and 5
* Stations include abdomen, chest, heart, CNS, endocrine, eyes, skin, joints
* Clinical examination checklists at the start of each station
* Questions and answers reflect the marking system used in the exam.