An Education Research Primer: How to Understand, Evaluate and Use It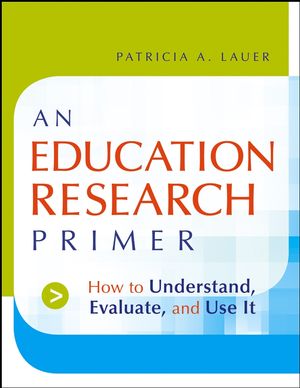 An Education Research Primer: How to Understand, Evaluate and Use It
ISBN: 978-0-787-98323-9
Mar 2006, Jossey-Bass
184 pages
Description
Produced by Mid-continent Research for Education and Learning (McREL), one of the nation's foremost educational research and training organizations, An Education Research Primer gives educators a basic understanding of educational research, its guiding criteria, and its relevance to school-based decision-making. In clear and concise language the book summarizes the various types of educational research, explaining their diverse purposes and methods. For example, the difference between experimental research (studies involving control group trials) and descriptive research (based on descriptive  information and relationships) is explained, including how each is designed to address different types of research questions, and why each might have different applications.  The book also describes what's involved in setting up a comparison control group and how some studies have randomized control groups while others do not. In addition, the book describes the different types of data collection methods used in research and how this can bear on the research findings.
Foreword ix
Acknowledgments xi
Preface xiii
1. The Purpose of Education Research 1
2. Scientific Criteria in Education Research 7
3. The Types of Education Research 13
4. Understanding Experimental and Descriptive Research 21
5. Understanding Data Collection in Education Research 33
6. Issues in Evaluating Education Research 41
7. Evaluating Experimental Research Studies 53
8. Evaluating Descriptive Research Studies 68
9. Evaluating Literature Reviews 83
10. Assessing the Relevance of Education Research 92
Appendixes
A. Tips on Reading Research Reports 102
B. Glossary of Education Research Terms 107
C. Finding Education Research 138
D. Statistics Tutorial 141
References 159
About the Author 162
Index 163
Helps educators make sense of educational research reports and assess the credibility of research findings, especially for complying with No Child Left Beyind Act requirements.
Provides tools for evaluating educational programs and practices.
Offers basic grounding in educational research principles and methods based on National Research Council criteria.
Includes extensive examples of research and their practical applications.