An Essay on the Principle of Population, Norton Critical Edition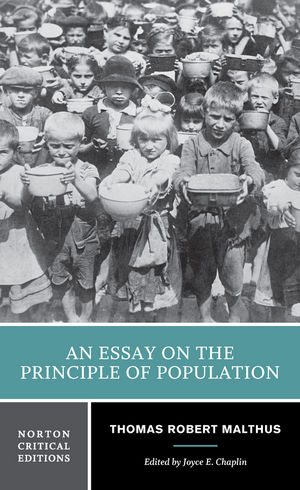 An Essay on the Principle of Population, Norton Critical Edition
ISBN: 978-1-324-00055-6
352 pages
Product not available for purchase
Description
The world's population is now 7.4 billion people, placing ever greater demands on our natural resources. As we stand witness to a possible reversal of modernity's positive trends, Malthus's pessimism is worth full reconsideration.

This Norton Critical Edition includes:
An introduction and explanatory annotations by Joyce E. Chaplin.
· Malthus's Essay in its first published version (1798) along with selections from the expanded version (1803), which he considered definitive, as well as his Appendix (1806).
· An unusually rich selection of supporting materials thematically arranged to promote classroom discussion. Topics include
"Influences on Malthus," "Economics, Population, and Ethics after Malthus," "Malthus and Global Challenges," and "Malthusianism in Fiction."
· A Chronology and a Selected Bibliography.