An Introduction to Ceramic Engineering Design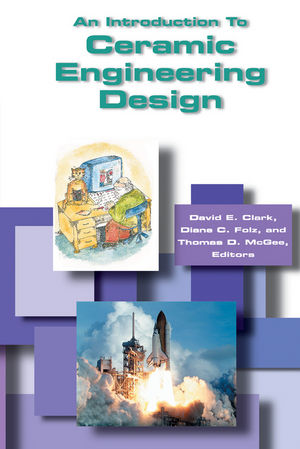 An Introduction to Ceramic Engineering Design
ISBN: 978-1-574-98131-5 October 2002 Wiley-Blackwell 456 Pages
Description
Engineering is the application of science and mathematics to achieve useful objectives for the benefit of society. Typically, the goal of an engineering education is to effectively pass on to students knowledge in the application of science and mathematics to solve engineering problems. A number of resources are available for design engineers, but until now, there has never been a single comprehensive resource specific to ceramic applications.
Concepts and Principles of Engineering Design (D.E. Clark, D.C. Folz and T.D. McGee).

Ethical Issues in Design (M.L. Cummings).

Materials Selection Methodology (W.J. Lackey).

Statistical Design (H. El-Shall and K.G. Christmas).

Use of Computers in Design of Ceramic Bodies and Processes (D.R. Dinger).

Developing a Design Protocol for Load-Bearing Applications (J.J. Mecholsky Jr.).

Role of Thermal Expansion and Conductivity in Design (D.P.H. Hasselman and K.Y. Donaldson).

Designing for Severe Thermal Stresses (D.P.H. Hasselman and K.Y. Donaldson).

Thermal Protection Design Considerations for Human-Rated Reusable Space Vehicles  (B.J. Dunbar and L. Korb).

Designing Glass Fibers (W.W. Wolf).

Designing for Nuclear Waste Containment (G.G. Wicks).

Designing Whitewares (D.A. Earl).

Design of an Orthopedic Joint (T.D. McGee).

Design Optimization of Ceramic-to-Metal Joints (J.H. Selverian).

Designing for Thermochemical Applications (E.D. Wachsman).

Designing with Piezoelectric Devices (K. Uchino).

Designing a Bionic Cat (L.L. Hench).

Integrated Process Design at the University of Florida (E.D. Whitney).

Protecting Property Right: Patents, Trademarks, Copyrights (J.A. Calderwood).


Appendix A-Author Biosketches.

Appendix B-National Academy of Engineering's Top 20 Engineering Achievements List.

Appendix C-Code of Ethics of Engineers.

Appendix D-Model Guide for Professional Conduct.

Appendix E-Obligation of an Engineer.