An Introduction to Classical Rhetoric: Essential Readings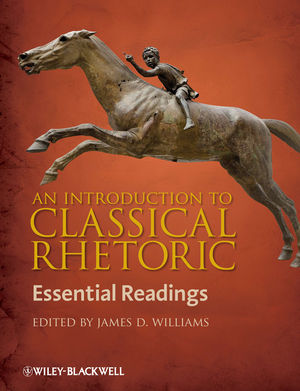 An Introduction to Classical Rhetoric: Essential Readings
ISBN: 978-1-405-15861-9 April 2009 Wiley-Blackwell 560 Pages
Description
An anthology of primary texts in translation,
An Introduction to Classical Rhetoric
offers an overview of the social, cultural, and intellectual factors that influenced the development and growth of rhetoric during the classical period.
Uses primary source material to analyze rhetoric from the Sophists through St. Augustine

Provides an in-depth introduction to the period, as well as introductions to each author and each selection

Includes study guides to help students develop multiple perspectives on the material, stimulate critical thinking, and provide starting points for dialogue

Highlights include Gorgias's Palamedes, Antiphon's Truth, Isocrates' Helen, and Plato's Protagoras

Each selection is followed by suggested writing topics and a short list of suggested additional readings.
Cannot be combined with any other offers.
Original Price:$115.90
Purchased together:$86.93
save $28.97
Table of contents
Acknowledgments xii
Introduction 1
Part I: Classical Greek Rhetoric 7
1 Introduction to Greek Rhetoric 9
2 Female Voices 37
3 The Sophists 51
4 Plato on Philosophy and Rhetoric 108
5 Aristotle and the Systemization of Rhetoric 222
Part II: Classical Roman Rhetoric 271
6 Introduction to Roman Rhetoric and Oratory 273
7 Cicero and the Latinization of Greek Rhetoric 316
8 Horace and the Revival of Poetry 376
9 Quintilian the Educator 392
10 The End of the Classical Period: Libanius and Augustine 416
References 527
Sources 536
Index 539
Plates appear between pp. 276 and 277
Features
Uses primary source material to analyze rhetoric from the Sophists to St. Augustine
Includes study guides to help students develop multiple perspectives on the material, stimulate critical thinking, and provide starting points for dialogue
Highlights include Gorgias's Palamedes, Antiphon's Truth, Isocrates' Helen, and Plato's Protagoras
Each selection is followed by suggested writing topics and a short list of suggested additional readings